Grammy-winning rapper Lil Nas X just put out a smash hit supposedly produced by Kanye West, but he won't tell us how he secured the rap giant on the track. Could this be due to something bigger in the works?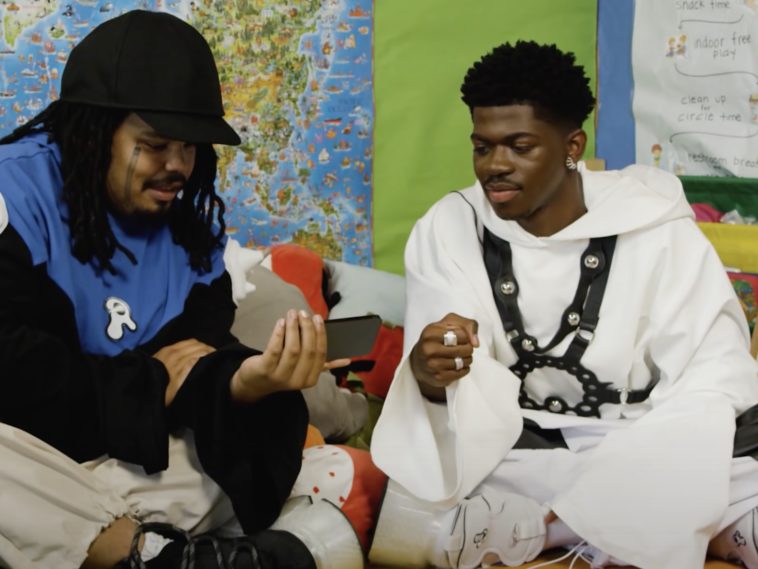 129 Views
Comments Off on Lil Nas X Goes Mum Over Kanye West Question
Lil Nas X Wont Tell Us How He Got Kanye To Produce 'Industry Baby'
When in an interview with Kerwin Frost, Lil Nas X was asked how this Yeezy production credit came to be. X wouldn't deliver any details or at least "not yet." When asked why he was keeping his lips sealed, Lil Nas X clarified he wanted to protect the people involved and "protect his connections".
Nas X also mentioned he got to hear some of the music Kanye is working on right now, saying it was "pretty cool." This leaves some to wonder if the real reason Lil Nas X won't give away any info is because of his knowledge of Ye's upcoming projects. Maybe Lil Nas X is the true keeper of Ye's Donda release.
Lil Nas X Completely Fact Checks
Staying true to keeping it real, Lil Nas X is not here for the cap – at all. The hip-hop star has stepped forward to check the world on trying to claim he's to blame for the spread of AIDS and sexual disease through his music.
Things started with media personality Dr. Boyce Watkins went to social media to single X out. He took personal offense to the sexual nature of Lil Nas' "Industry Baby" music video.
"LilNasX isn't fighting for gay rights. He's marketing the sexual irresponsibility that's causing young men to die from AIDS. Being gay is one thing, but being a super spreader is another. There's nothing healthy or helpful about that video. Especially for children."
Instead of staying mum, X quoted the tweet and didn't hold back. While normally one of the biggest rap game trolls, Nas used this opportunity to check Boykins about not having the same digital smoke for the vast majority of rap artists rhyming about infidelity and sexual encounters.
"y'all be silent as hell when n*ggas dedicate their entire music catalogue to rapping about sleeping with multiple women. but when i do anything remotely sexual i'm "being sexually irresponsible" & "causing more men to die from aids" y'all hate gay ppl and don't hide it."
Lil Nas X + Jack Harlow's 'Industry Baby' Is Doing Amazing
Based on weekend data, Nas and rapper Jack Harlow's "Industry Baby" has peaked to the top spot of streaming giant Spotify's United States chart. In just 48 hours, the song banked over 2 million listens.
". @LilNasX and @jackharlow 's "INDUSTRY BABY" rises to a new peak of #1 on the US Spotify chart with 2.12 million streams."
Last week, Jack Harlow went to Twitter to defend X's vision and how devoted he was to helping Lil Nas have the visual live up to his expectations.
"step of the way. If he had asked me to be in that shower scene I woulda been in that shower scene. I just let the mastermind cook. Honored to be apart of it."
Lil Nas X's 'Industry Baby' Is Pure Must-See Craziness
In the "Industry Baby" music video, X goes with an entire prison setting to tell a story he takes full credit in telling. There's everything from a reference or salute to New York rap veteran 50 Cent's "In Da Club" video to his certified Grammy wins to going all-nude dancing in a jaw-dropping shower scene. There's not holding back from X in his newest single and visual.