Grammy-winning rapper Lil Nas X isn't ready to slow down – at all. The hip-hop star continues to turn up over his "MONTERO" smash record debuting atop the Billboard Hot 100 chart by releasing an unofficial music video.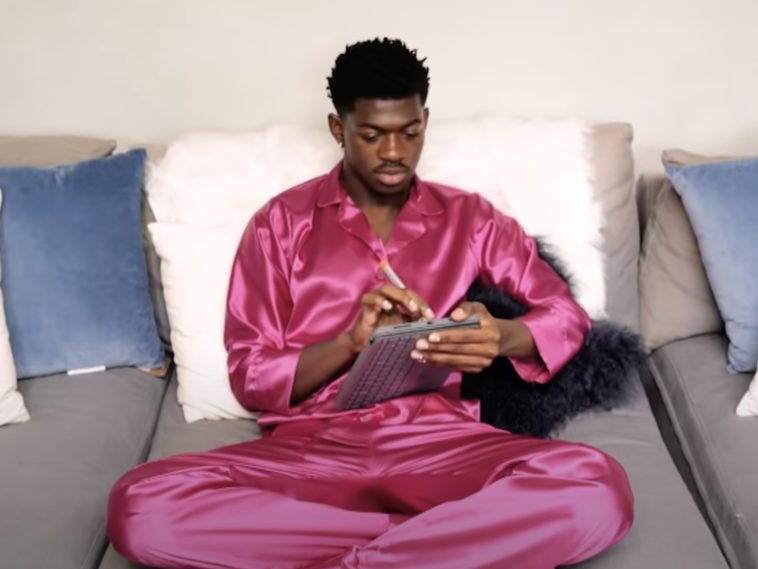 @sohh @sohhdotcom
149 Views
Comments Off on Lil Nas X Creates His Own MONTERO At-Home Music Video
Lil Nas X Creates His Own MONTERO Video
X went to his YouTube channel to unload the nearly three-minute visual. The video is a collection of behind the scenes moments including studio moments and turning up around his recently purchased new home.
Lil Nas X – MONTERO (Call Me By Your Name) [Official Video except its not the official video at all]
Lil Nas X Gets Emotional After Going No. 1
Hours prior, the rap hitmaker geeked out over his achievement. X shared a super emotional and motivational message after going No. 1.
"last year i was sitting in my apartment thinking it was all over for me. i was trying so hard to be perfect, to please everyone, and not make any enemies. that stifled me creatively. i felt so sorry for myself. but around this time in 2020 i pulled it together, me, daytrip, omer, & roy, worked for months on end. one day in june i was working on a song and found myself leaving the studio every 10 minutes to cry. but i didn't stop working, a melody came to my mind. "call me when u want na-na-na-na na, and i knew it was something special about it, fast forward a year later it's the biggest song in the world. thank you guys so much. we get to decide OUR own destiny, never let the world decide it for YOU! i love you! 🏹🤍"
X didn't stop there. Lil Nas also shared a throwback video from last year featuring himself talking to the future version of himself.
"made this video in june 2020 to congratulate my future self. we have arrived. 🥲🤍"
Lil Nas X Bounces Back
A few days ago, X went to his Instagram page to keep the attention on his music. Instead of letting his emotions loose on a publicized war with Nike, Lil Nas trolled haters with a graphic King Kong pic and news of his latest smash enjoying overseas success.
"swipe for good news … MONTERO IS OFFICIALLY NUMBER 1 IN THE UK! THANK YOU GUYS SO F*CKING MUCH!"
Nike Gets Restraining Order Against Satan Shoes
Last week, reports emerged about Nike filing a restraining order against MSCHF, the art collective that collaborated with Lil Nas X to make his recent devil-inspired shoes. They've blocked all sales of the limited-edition sneakers, which have drawn a whole lot of backlash. However, MSCHF announced they shipped out most pairs already.
"Nike filed a trademark infringement and dilution complaint against MSCHF today related to the Satan Shoes," Nike told CBS News in a statement Thursday. "We don't have any further details to share on pending legal matters. However, we can tell you we do not have a relationship with Lil Nas X or MSCHF. The Satan Shoes were produced without Nike's approval or authorization, and Nike is in no way connected with this project."
The court order states that the Brooklyn-based agency cannot fulfill any orders. During a court hearing Thursday morning, MSCHF's lawyer said that the majority of the shoes, over 600 pairs, have already been shipped to individual consumers, arguing that this rendered Nike's claims irrelevant. (CBS)