Florida rapper Kodak Black might be low-key shooting his shot at the newly estranged wife of rap star Kanye West. The hip-hop artist has sparked some attention courtesy of reaching out and showing love to 40-year-old reality TV mogul Kim Kardashian.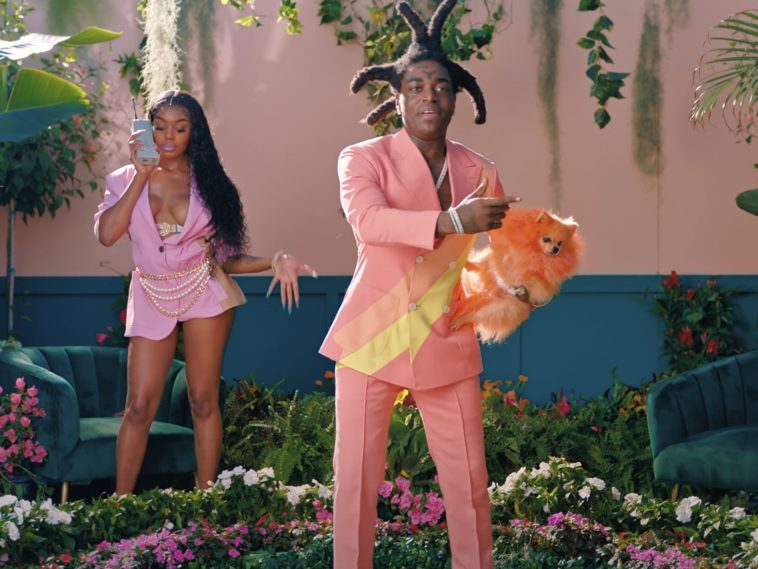 159 Views
Comments Off on Kodak Black Has His Eyes On Kim Kardashian
Kodak Black Has His Eyes On Kim K
KB went to his Instagram page to share a snapshot of Kim K flexing modeling goals. Black used the pic to promote his newly released Happy Birthday Kodak EP album.
"@kimkardashian Feelin Peachy 🥰 Go Stream My New EP #HappyBirthdayKodak & Watch My New Video #FeelinPeachy"
Instead of applauding the shout-out and reference to his "Feelin Peachy" music video, commenters playfully went off at Black for presumably thirsting over KK.
"This n*gga done lost it"
"Dis brothaa starving"
"Bro what🤣🤣🤣"
"Lol don't do it learn from Kanye"
Hours prior, Kim K did shared a snapshot of herself rocking a peach-inspired bikini but didn't make any direct reference to Kodak's "Feelin' Peachy" anthem.
"🍑🍑"
Kim Declares Forever Love For Kanye
A few days ago, Kim K reminded Kanye of the love she still had for him in a tweet. Along with her loving words and birthday wishes, the celebrity mother included an old family photo taken before their divorce proceedings.
"Happy Birthday. Love U for Life!" 🎈
Kanye's Big Mad Over Divorce
In April 2021, Yeezy was reportedly having a problem dealing with folks believing Kim sparked their split. The speculation suggested that Kanye is "annoyed" over the divorce buzz.
We're told West — who just responded to the papers filed by Kardashian two months ago — is "super annoyed that the story is being constantly presented as her divorcing him," said the source, who noted the Kardashian family's "huge spin machine." "Actually it was him saying for a year that they have nothing in common except the kids and he wanted out," insisted the insider. "She pulled all the stops to try to save the marriage." (Page Six)
Ye Reveals Type Of Woman He Wants To Date After Divorce
In mid-April 2021, news broke out that West preferred his next relationship be with someone who is "an artist and a creative person," who can "speak the same language." The ever-unique producer's soon-to-be-ex was undeniably on his level of entrepreneurship, but Kim K has never publicly been known as the artistic type.
#KanyeWest is already thinking about his next relationship. The newly single rapper — who is in the midst of a divorce from #KimKardashian — wants his next relationship to be "with an artist and a creative person."