Give or take a few hundreds of millions of dollars, the bottom line is that Kim Kardashian is rich AF. There's been some debate about whether the entertainment and beauty mogul is truly a billionaire, but she recently set the record straight to confirm she is in fact on that level.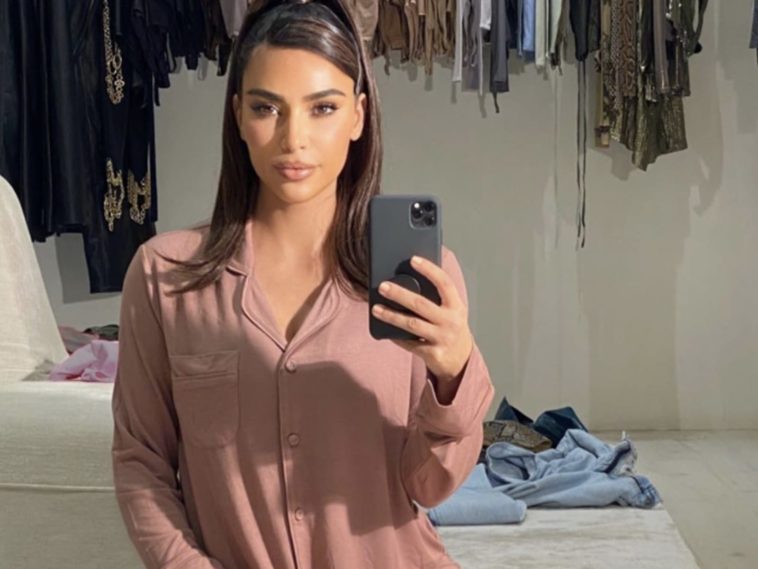 @sohh @sohhdotcom

99 Views
Comments Off on Kim Kardashian Checks Forbes + Confirms Her Exact Net Worth
Kim Kardashian Clears The Air On Billionaire Status
Forbes recently declared Kim Kardashian a brand-new billionaire, although a lot of people assumed she already was. Not that it really matters in the big picture, but Kim K. clarified that her Skims shapewear line is valued at $1.6 billion, meaning she's got more money than even Forbes knew about.
Skims saw a boom in sales amid the pandemic, as consumers gravitated toward comfier, at-home clothing options. Kardashian owns a majority stake, and while the financials of the company have not been disclosed, the New York Times reported on Friday that the company raised $154 million at a valuation of $1.6 billion — all but affirming Kardashian's 10-figure status. (Yahoo Finance)
Kim K. Addresses Kanye West's Controversial Tweets
Reality TV star Kim Kardashian is opening up on the downfall of her marriage to rapper/producer Kanye West. On the final season of "Keeping Up With The Kardashians," Kim addresses the pending divorce, which is happening in part due to Yeezy's social media activity.
"You just kinda have to separate yourself from, like, what's going on at home and what's going on on the Internet."
Kanye West Might Be The Wealthiest Black Man In US History
Kanye's publicized divorce from Kim K. isn't hurting his business moves or net worth. New estimates have slated Ye as the wealthiest Black man in United States history. Kanye West is now worth $6.6 billion.
The 43-year-old rapper is worth $6.6 billion, a significant increase from the amount that West was reported as being worth back in April 2020 by Forbes, PEOPLE confirms. Led by his sneaker and apparel business Yeezy, which is now in partnership with Adidas AG and Gap Inc., the business [owned by Kanye West] is valued between $3.2 billion and $4.7 billion by UBS Group AG. The value of the new Gap collaboration with Yeezy, which is scheduled to hit stores this summer, "could be worth as much as $970 million of that total," Bloomberg reported, citing a bank estimate. The "Famous" rapper [Kanye West] also has $122 million in cash and stock and $110 million from his music catalog, alongside $1.7 billion in other assets, including estranged wife Kim Kardashian's SKIMS business. (Kardashian filed for divorce in mid-February. The couple share four children: daughters North, 7½, and Chicago, 3, and sons Saint, 5, and Psalm, who will turn 2 in May.) (PEOPLE)
Kanye + Kim Aren't Speaking
The rap boss and his entertainment mogul ex are really going their separate ways. Recent reports have revealed that the two aren't even on speaking terms, never mind sticking out their marriage. Kanye reportedly changed all of his phone numbers and told Kim K that if she needs to contact him, to hit his security's line. Yeezy has cut off all communication from Kim and the Kardashian clan as well.
It sounds like Kim Kardashian and Kanye West are no longer on direct speaking terms as they coparent their children. According to Page Six, Kanye changed his number and as of now, Kim is contacting him through his security team. As a source tells the outlet, "Even before Kim filed for divorce, Kanye changed his numbers and said, 'You can contact me through my security.' (Cosmopolitan)