New York rapper Fabolous knows how to make a Queen Bee happy. The hip-hop veteran did the most for one of the rap game's most celebrated hip-hop artists – Lil' Kim – for an amazing and unexpected birthday surprise.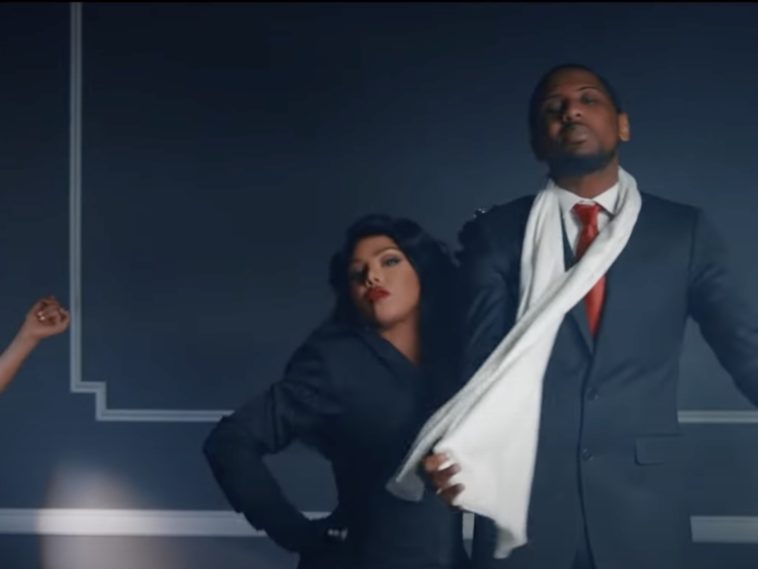 139 Views
Comments Off on Fabolous Respectfully Kidnapped Lil' Kim For The Time Of Her Life
Fabolous Respectfully Kidnapped Lil' Kim For B-Day Dinner
The Queen Bee hit up her Instagram page to share a slew of must-see pics. The shots feature her hanging out alongside Fab's wife Emily B and New York rap star French Montana for a private dinner at the Big Apple's Asian fusion restaurant Jue Lan Club.
"So my bestie @myfabolouslife called me and said you gotta come outside. I said what's the plan he said just get beautified, I'm kidnapping you respectfully 😹😩 And he surprised me at one of my favorite restaurants @juelankitchen!!!! "
Kim went even further to call the outing an experience she'll never forget.
"It was one of the best Bday dinners ever!!! Thank u so much bff!! We had so much fun!! The whole night was amazing!!! Ur truly an awesome bestfren. Thank u for ALWAYS thinking about me 🙏🏽 And thank u @frenchmontana for popping in and thank u my @tttorrez for helping us celebrate. it was all Love !!  And y'all kno a bday dinner for me just wouldn't be right without my 2 fabulous sisters @therealmaryjblige & @misahylton! U guys are my heart ❤️ Thank you to my sisters @emilyb_ & @mimisbella and Soulgee for being there with me ❤️❤️"
Fat Joe Properly Salutes Queen Bee
Earlier in the month, rap veteran Fat Joe a.k.a. Joey Crack hit up his Instagram page to show major love to the Brooklyn native. The Terror Squad leader shared a recent snapshot of Kim flexing major fashion goals and shining Black Girl Magic.
"Happy bday to my sis @lilkimthequeenbee love you enjoy your day 🙏🏽❤️"
Lil' Kim's 'Ladies Night' '21 Version Is Coming
In a recent interview, hip-hop artist and "Wild 'N Out" cast member Justina Valentine let loose plans for an epic Lil' Kim collaboration to appear on an upcoming She Ball movie soundtrack. JV also revealed the track would not only feature herself and the Queen Bee but rap rookie Coi Leray.
"It's like the 2021 'Ladies Night.' Legendary. Yes. I'm excited. I can't wait. I told Nick [Cannon], I got my basketball moves ready. He told me to relax. He said I looked a little shaky on the court but I told him by the time we shoot the video I'm going to be hanging by the net. Like, I'm ready – Lil' Kim is literally a main reason I rap. I used to put my name on all her raps – I love Lil' Kim. She's my favorite female rapper of all time. l grew up on her and you know what was so dope was, you know when you just have someone who is your favorite growing up and you meet them – I met Lil' Kim and it was at a party in New York – she was like, 'Girl I know you, I see you on TV all the time.' I was like, 'Yo!' Lil' Kim saying that to me and her being so nice and showing me love and saying she watches me on TV? I was like, 'Thank you God. Thank you Nick Cannon.' It was like a dream come true." ("Checc'd In")
The 2017 'Ladies Night' Tease
A few years ago, Lil' Kim hyped up the possibility of getting a new "Ladies Night" song. She told a crowd of people at a "Hip-Hop & Soul" 2017 concert.
"Let me give a shout out to my beautiful sisters that were on this stage earlier. Cardi B, that's baby! Remy [Ma], bitch, I f*cking love your ass. That's my baby. Maybe y'all might see something in the future. How 'bout that? Another 'Ladies Night.' We might be due for that."