Bronx NY native Ice Spice has been a hot topic since emerging on the scene in August of 2022 with her viral hit "Munch (Feeling U')." Here is everything you need to know thus far in her career.

189 Views
Comments Off on Drake Re-Follows Ice Spice On Instagram After Mysteriously Unfollowing Her + Who Is She?
Updated By: Journey Green (2/28/23 at 4:24 pm)
Ice Spice is slowly taking over the hip-hop scene. Here is a brief timeline of everything you need to know thus far in her growing career:
Feb 2023
Drake Refollows Ice Spice 
Drake has refollowed Ice Spice on Instagram.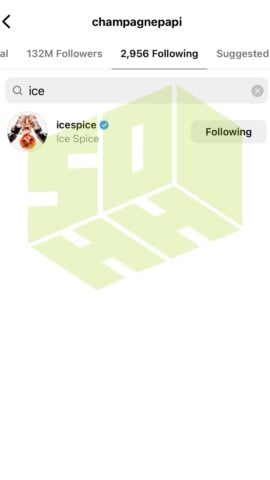 When Ice first emerged on the scene, she was allegedly cosigned by Drake and was invited to his 2022 OVO fest. Shortly after, Drake unfollowed her.
Ice Spice First Top 10
Bronx-bred rapper Ice earned her first Top 10 spot on Billboard with "Boy's A Liar Pt 2" featuring UK superstar PinkPantheress. The song hit No. 4 on the Billboard Hot 100 charts.
Ice Spice Rumored To Date Lil Tjay
On Valentine's Day in 2023, rapper Lil Tjay gifted Ice Spice a Richard Mille watch. The gesture solidified fans' suspicions of the two being an item. Here is the timeline of their alleged romance.
Ice Spice Swarmed By Fans & Escorted Away
The Like..? artist was recently swarmed by fans, forcing her to be rushed out during her performance at a NYFW party, which led to chaos. Footage shows Ice in a panic being escorted by security.
The Barbz Are Officially Team Ice Spice
After Alabama rapper Chika allegedly dissed Ice Spice on Instagram, Nicki Minaj fans went into full defense mode. Ice has received support from the Barbz after making it known she's a Barb herself.
January 2023
Ice Spice Releases First EP Like….?
The Bronx baddie dropped her first EP, Like…? on January 20th. The EP features "Munch," "Bikini Bottom," and "Gangsta Boo," featuring Lil Tjay and more.
December 2023​​
Ice Spice named in Vevo's DSCVR Artist To Watch List For 2023
Ice spice was named on Vevo's DSCVR Artist To Watch list.
In a colorful iridescent room, the breakout artist performed her hit "Munch." Rocking an all-black outfit that features a mini skirt, crop top, trendy Rick Owens shoes, and of course, a puffer jacket in typical Bronx fashion.
November 2023
Ice Spice Gives Back To The Bronx
Rappers Ice Spice and Lil Tjay teamed up for a food giveaway in their hometown of the Bronx, New York at Fordham University. Families in need took home turkeys just in time for the Thanksgiving holiday.
October 2023
Ice Spice Addresses Drake's Unfollow On Social Media
Lately, "Munch" rapper Ice Spice has been the buzz on social media. Rumors also surfaced on the internet after being unfollowed by Drake after the OVO fest. Now, her latest interview finally addresses the situation.
Ice Spice recently sat for an interview, where she finally addressed becoming a juicy topic of discussion after being unfollowed by alleged cosigner Drake.
Spice gave the entire spill on how she met the Toronto rapper; including him inviting her to the recent OVO fest, where iconic rappers Nicki Minaj and Lil Wayne performed.
Furthermore, the interviewer then brought up the burning question:
"Why did Drake Unfollow you?" 
The "No clarity" rapper replied, saying she has no idea why he unfollowed her and that it is still "All Love" in her book.
Who Is Newly Emerged Drill Rapper Ice Spice?
Drill rapper Ice Spice was sponsored by Drake when her hit song "Munch" took over social media. At some point, he unfollowed her on Instagram for reasons unknown.
At the beginning of Ice Spice's popularity, Drake had eyes on him for following her on Instagram and DM-ing her regarding her hit "Munch." 
He even went so far as to co-sign her.  
Drake then flew her out to Toronto and was spotted at her OVO Fest set. The "God's Plan" rapper then unfollowed her on Instagram several weeks later. 
Who Is Ice Spice?
One of the newest artists to emerge out of the drill rap scene is Ice Spice. Born in the Bronx, the "No Clarity" artist is just 22 and has already caught the attention of household names in the game.
Born in the birthplace of hip-hop and to a father who was an underground artist, Spice's initial ambitions were to be an actress. 
The name Ice Spice came from an Instagram account she created as an alter ego when she was younger. She soon left her acting dreams behind after a chance meeting with Bronx-based producer Riot. 
The meeting led to the two connecting, with Riot making unique beats to flow with Spice's rhymes.
The latest track by the dynamic duo is Munch (Feelin' U). It has over a million hits on YouTube and co-signs from the 6 God, Drake. 
The two were seen earlier this year in his hometown of Toronto on the Budweiser stage.
Who's The Queen Of Drill Rap?
On the topic of female drill rappers, the big debate that has many female emcees staking their claim is who's truly the queen of drill rap. 
Though each artist has a unique sound, they have proven that drill music can be added to many different genres of music. 
Read the full article to check out which fan favorites made our list!
Originally Written By: Michael Omoruan (10/10/22 at 3:00 pm)
Additional reporting by Aevum Caelum and Journey Green.