Don't be surprised if this turns into an "I got hacked" situation. Or maybe it was a prank. R&B singer and rapper Doja Cat — or whoever was running her social media — teased her three million Twitter followers Thursday night with the promise of a new single being released. And then things got weird.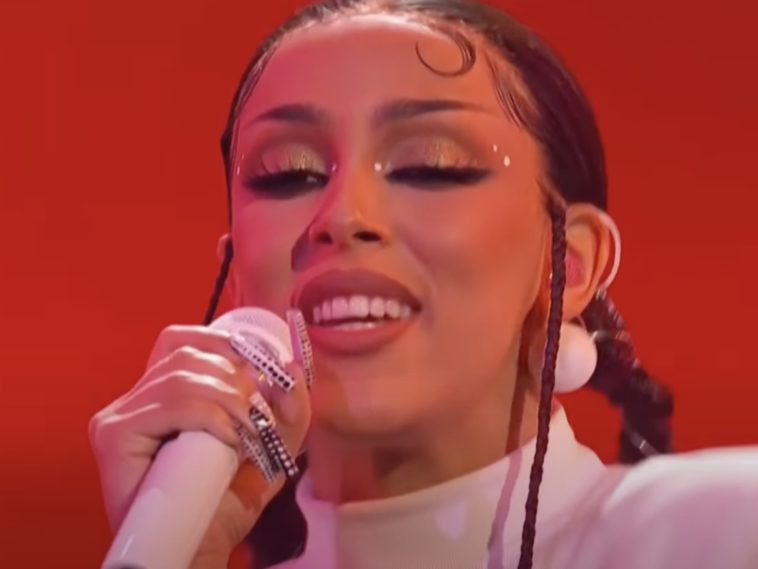 119 Views
Comments Off on Doja Cat Goes On Twitter Tirade After 'New Single' Drops
Doja Cat Drops Laughably Terrible New Song
"Kiss Me More" hitmaker Doja Cat announced on Twitter that she had a new single coming Thursday night. She then posted a 38-second SoundCloud snippet called "VERY BEST" that was … well, it was awful. Doja followed that with a rant about being disrespected for her mic skills.
"VERY BEST by DOJA CAT on #SoundCloud"
DONT EVER F*CKIN DISRESPECT ME AS A RAPPER. AFTER THE LAST SONG I DROPPED YOU WILL RESPECT MY PEN AND THATS F*CKIN THAT. stream Very Best.
Doja Cat + SZA Take Over BBMAs
DC and SZA dominated the Billboard Music Awards as promised. The duo paired up for their first televised performance of "Kiss Me More." After mounted anticipation, both Doja and SZA pulled through in epic fashion for a stunning performance.
Doja Cat + SZA's Teaming Up
Buzz developed about fans being able to look forward to Doja and SZA gracing the stage this past Sunday when the festivities started at 8 PM ET.
dick clark productions and NBC today announced that Doja Cat & SZA have been added to the superstar lineup of performers for the "2021 Billboard Music Awards" (BBMAs). Hosted by Nick Jonas, the BBMAs will broadcast live from the Microsoft Theater in Los Angeles on Sunday, May 23 at 8 p.m. ET / 5 p.m. PT on NBC. The powerhouse duo will wow fans with the world television debut of their hit single "Kiss Me More," from the Xfinity Stage. Doja Cat, a finalist in five categories this year, could take home her first BBMA. SZA, a 2018 BBMA winner for Top R&B Female Artist, could claim her second win in this category.
Doja Cat went to her Instagram page to hype up the event. She also confirmed they would – indeed – perform "Kiss Me More" for the world to see.
"I'll be taking the @bbmasstage with my girl @sza for the world television debut of "Kiss Me More" 💋Tune-in this SUNDAY at 8pm ET/5pm PT on @nbc! #BBMAs"
The Weeknd, DaBaby + Meg Thee Stallion Leads BBMAs
The Billboard Music Awards had popular crooner The Weeknd leading the pack with nearly 20 nods. Rap heavyweight DaBaby and the late Pop Smoke follow closely behind.
On Thursday, the Billboard Music Awards announced its group of 2021 nominees, led by The Weeknd with 16 nod, followed by rapper DaBaby with 11 nominations and the late Pop Smoke with 10 nods. Gabby Barrett and Megan Thee Stallion are the two women nominees with the most nominations with nine and seven nominations, respectively. This year's awards show is based on chart data from March 21, 2020 through April 3, 2021 with winners based on "key fan interactions with music," including song sales, streaming and social engagement. Meanwhile the top social artist and top collaboration categories are fan-voted. (People)