The guilty verdicts handed to Derek Chauvin on Tuesday for the murder of George Floyd are being celebrated around the world. But don't forget that police officers are still out here abusing their authority. The latest case of egregious overreach comes out of New Jersey.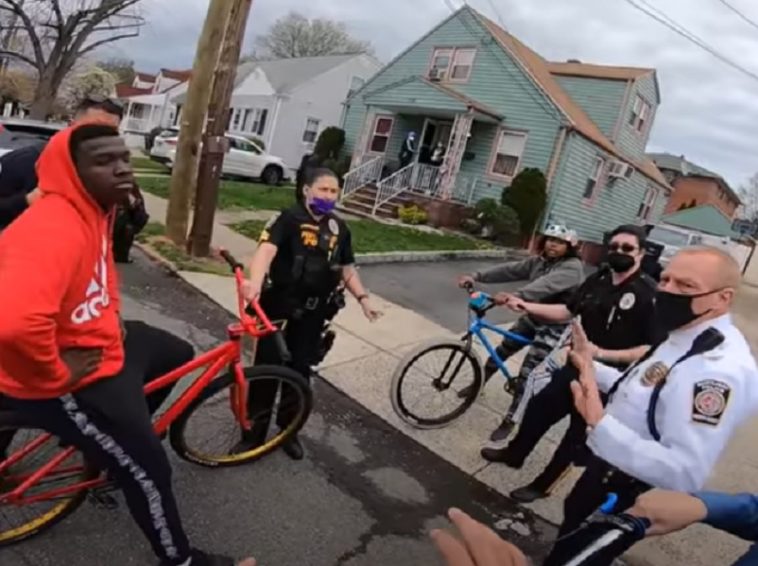 @sohh @sohhdotcom

149 Views
Comments Off on Cops Arrest Kid For Riding Bike – No Cap
Teens Harassed By Cops For Riding Bikes In NJ
A video that has gone viral shows the recent incident in Perth Amboy, N.J. A group of Black and Latino teenagers are riding bicycles when police cars begin following them. An officer warns them not to disturb traffic. Some time later, a police sergeant is on the scene and orders the bikes be confiscated. One of the teens is arrested.
"We literally just got pulled over by cops. One of them said we could leave, and then some other girl came. Supposedly she's the sergeant or whatever, and told them to take all the bikes when the one guy said we could leave. And now we have no bikes. Look at us, walking!"
Hip-Hop Community Reacts To George Floyd Verdict
The hip-hop community is speaking out after an emotional verdict went down aiming to keep ex-cop Derek Chauvin behind bars for decades. Everyone from Meek Mill and Young M.A to "Power" creator Courtney Kemp have come forward to weigh-in on George Floyd's family and supporters finally receiving justice.
"You have to literally get killed on camera to get a chance at justice as a black man in America …..I salute you black king rest in power!!"
George Floyd's Killer Convicted Of Murder
After days of testimonies and publicized court appearances, Chauvin's fate was announced Tuesday afternoon. The ex-cop has officially been convicted on all charges by a jury in the Hennepin County court.
The 12 jurors found him guilty of second-degree unintentional murder, third-degree murder and second-degree manslaughter in George Floyd's death in May 2020. The maximum sentence for second-degree unintentional murder is imprisonment of not more than 40 years. The maximum sentence for third-degree murder is imprisonment of not more than 25 years. The maximum sentence for second-degree manslaughter is 10 years and/or $20,000. (CNN)
Doctor: Drugs Did Not Cause George Floyd's Death
Recently, Dr. Martin Tobin testified for the prosecution in the Derek Chauvin trial. He refuted the argument popular among Chauvin supporters that George Floyd died as a result of a drug overdose at the same time Chauvin was putting his body weight on Floyd's throat.
"A healthy person subjected to what Mr. Floyd was subjected to would have died." (Dr. Tobin)