New York rapper Cardi B's sister Hennessy Carolina, Big Sean, Megan Thee Stallion and more high-profile hip-hop heavyweights are big proud right now. The rap game has come forward to celebrate the Bardi Gang leader's "Up" single going to No. 1 on the Billboard Hot 100 chart.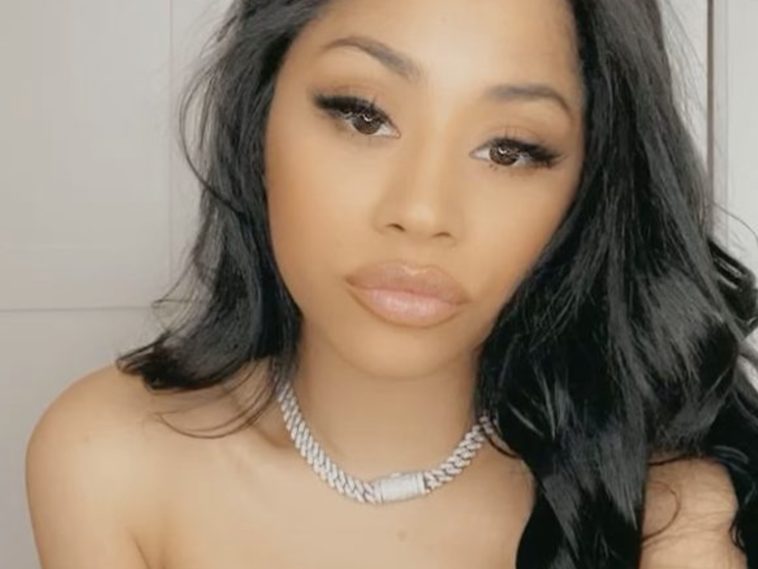 @sohh @sohhdotcom

99 Views
Comments Off on Cardi B's Sister, Big Sean + More React To 'Up' Going No. 1
Cardi B's Sister + More React To 'Up' Going No. 1
Hennessy started the celebration by lighting up Instagram with the big news. She shared a screenshot of Cardi's success and freaked out over the accomplishment.
"#1BABYYYYYYYYY @iamcardib !!! 🙌🏽🙏🏽🥳🥳🥳🥳🥳👏🏽👏🏽👏🏽 Cheers to your 5th #1 😍😍😍 Im so proud you! 🥇🥇🥇🥇🥇 " HIT EM WITH THAT GOOD GOOD"😜 oh we celebrating all month ✨"
Cardi made sure to hit up her Instagram page with the big reaction to her own success.
"I want God to come see me in my dreams when I take my nap today so I can kiss his feet and tell him how much I love him !!! Yoooooo shit is amazing yoooooo .I got no words .Actually I got a lot of words but I can't type it all 😩😂NUMBER 1!!!!!"
Social media flooded her comments section with big congrats. Cardi's husband Offset also made sure to acknowledge the W.
"🔥🔥🔥🔥🔥 yesss" -Megan Thee Stallion"
"🔥🔥🔥🔥🔥🔥" -Uncle Murda
"Congrats!!!!" -Big Sean
"🔥🔥🔥🔥🔥🔥 Congrats Bardi" -Torae
"☝🏾☝🏾☝🏾☝🏾☝🏾🔥🔥💪🏾💪🏾💯" -A Boogie Wit Da Hoodie
"Congratssssss @iamcardib this another one 5 number 1's God is the greatest love you" -Offset
Cardi B Says Women Go Too Hard On Female Rappers
This past weekend, the Bardi Gang leader hit up her reliable Twitter page to let loose. Without singling out anyone specific, B lumped all people together – especially women – on not gracefully embracing female rap artists.
"People be so hard on female rappers ."
She also responded to a fan's tweet about people hating to see women do what men thought only they could do.
"Naaaaa ……man be hating but it really be women in these comments & on YouTube talkin the most sh*t putting women down but fake preach unity and women progression."
Cardi B Wants To Be A Billionaire
When recently asked about what she had planned next career-wise, Cardi admitted she saw billion-dollar deals in her future and she knew just how to get them. The Bronx-native revealed she looked up to some of the richest hip-hop stars out there, singer Rihanna and JAY-Z and would focus on getting to their level by making the right business deals.
"But now that I'm at the level that I'm at, one of my biggest influence is Rihanna and Jay-Z. And I'm not just saying it to kiss a– or anything. I just feel like they're so influential because Rihanna comes from a country, a Caribbean country, that my parents came from and she's a whole billionaire – but for her to make her business so big and be a billionaire, that's what I strive to be. That's what I want. I want to be a billion-dollar woman. I want to build a huge brand." (Stationhead)
Giving Credit Where It's Due
Cardi B is the first female rapper in history to have a Diamond-certified single, "Bodak Yellow" thanks to Florida rapper Kodak Black's contribution. When news of the certification recently came out, fans of Black voiced concerns he wasn't receiving royalties or other rewards for his participation. Cardi refuted the accusations by letting Twitter followers know he was a credited songwriter on the track.
"He got credit on the song WE both getting rich with the song til we die .. The song is called Bodak Yellow for a reason . You h*es get on this app saying the dumbest sh*t ."