Louisiana rapper Boosie Badazz is celebrating good health. Six years after the hip-hop star was first diagnosed with kidney cancer, he announced he's officially cancer-free.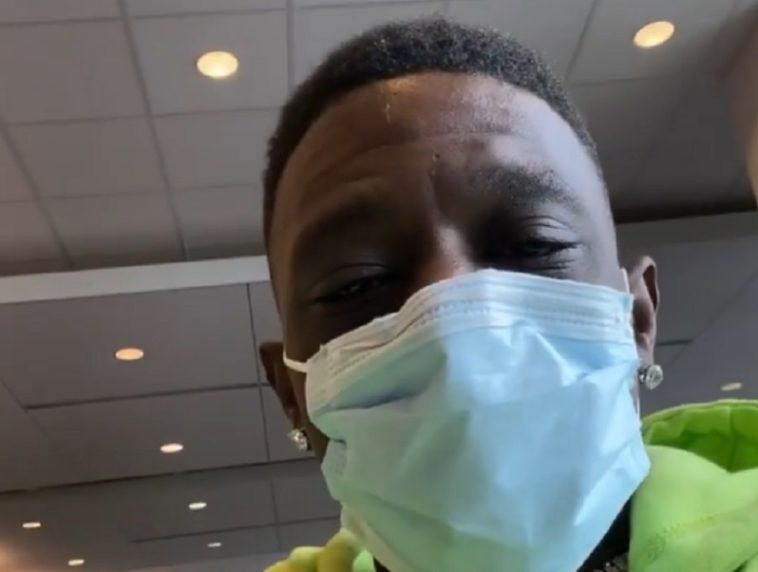 @sohh @sohhdotcom

179 Views
Comments Off on Boosie Badazz Reveals He Is Cancer-Free
Boosie Badazz Gets Clean Bill Of Health
Shortly after Boosie Badazz was diagnosed with cancer in 2015, he had surgery to remove it. Each year since then he's had a checkup to see if the cancer returned, and this time doctors determined he's definitely free of the cancer. BB went to Twitter to alert the world about his status.
"IM CANCER FREE #tearofjoy Thanks to everybody said a prayer for me #GODISGREAT"
Boosie also went to his Instagram page to share footage and speak on surviving his battle.
"ANNUAL CANCER CHECK UP 😔🙏🏽ALL MY FAMILY N FANS SAY A PRAYER FOR ME AS I WAIT ON MY RESULTS #prayerispowerful#yesterday#fuckcancer🎀" (Instagram)
Boosie Gets 'Rescued' By A Dolphin
The "Wipe Me Down" hitmaker educated himself and it paid off with a hilarious moment co-starring a dolphin. Boosie took note of something he saw on "the animal channel" and tried it on his vacation in the Bahamas.
"On this picture, I played dead, and the dolphin pushed me to safety. The reason I was the first one to ever do this… The man said I was the first one to ever do this, but I watched the animal channel before I went over there. And if you play dead, a dolphin will push you to safety."
Boosie Says He Would've Gone At Gucci Mane
Recently, Badazz vocalized some frustrations with fellow southern star Gucci Mane during a recent interview over the Atlanta legend's words amid his November 2020 VERZUZ battle with Jeezy.
"He said 'I'm smoking on that Pookie Loc tonight,' I like how they bossed up, but I would have charged that n*gga. If he had said he was smoking on my partner, I'd have felt that was a type of disrespect. I thought we were walking about music. You can say that in a song if that's part of a song, but you ain't gon' say…"
Boosie Badazz + GF Rajel Own It On Date Night
The Southern rap veteran and his girlfriend, actress Rajel Nelson, hit the town recently flexing relationship goals in their matching outfits. Boosie and his boo have publicly been an item since early last year and continue to put the spotlight on their inseparable bond.
"Okay! Looks like #Boosie and his boo are still going strong 👏🏽👀"