R&B superstar Ashanti is keeping the studio goals on pause while she embraces fun under the sun. The curvy New York native has blessed social media with a fresh look at herself and friends on a tropical getaway.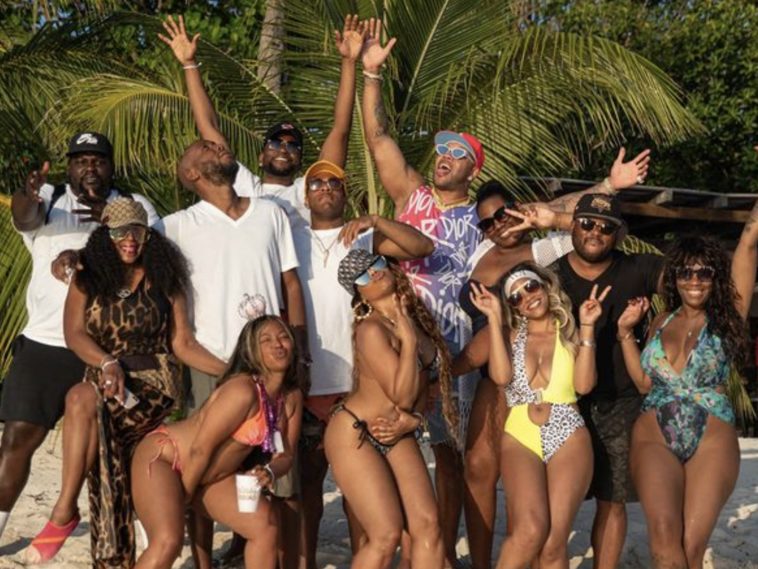 @sohh @sohhdotcom

189 Views
Comments Off on Ashanti's Still Living Her Best Life W/ Flo Rida + Friends
Ashanti's Still Living Her Best Life
The Big Apple singer went to her Instagram page with some must-see footage. In the quick clip, she's posing with friends including her recently rumored and then denied boyfriend/rapper Flo Rida.
"Squad 😜🌴 🥳 📸 @pgsilver"
Flo hit up the comments section to acknowledge the epic-looking clip.
"🔥🔥🔥🔥🔥🔥🥳🥳🥳🥳🥳"
Ashanti's Woman Crush Everyday Vibes
Heading into this past weekend, the curvy entertainer hit up Instagram with an unexpected splash of new shots. The pics featured Ashanti wearing a two-piece outfit with a matching bucket hat and shades.
"Exotic 🌴"
The comments section exploded with over 200,000 likes and ample high-profile celebrity co-signs.
"😍😍😍😍" -Trina
"😍😍😍😍😍" -La La
"My Sis ❤️" -Beenie Man
Ashanti Shuts Down Flo Rida Romance Rumors
Last week, Ashanti and hip-hop heavyweight Flo Rida posted up on vacation alongside friends and family. However, the "Foolish" crooner deleted all talk in the comment section, revealing the pair were celebrating a friend's birthday and not clocking in romantic relationship goals.
Aht aht ✋🏽 Flo is my brother! We're family! Celebrating my sis @liltuneshi bday!!! 🎉🎉 Happy Birthday Bink! 🎉🤣❤️🌴
Over the past few days, Ashanti has unloaded tons of steamy vacation pics to the masses.
"My Sea-cret spot 🌊 📸 @pgsilver"
VERZUZ Dispute Cleared Up
The VERZUZ battle between Ashanti and Keyshia Cole was an overall success, but some of the moments that left everyone talking weren't about their classic songs. One was an argument over which singer was supposed to go in which order.
In January 2021 Ashanti appeared on New York radio station Power 105.1's "The Breakfast Club" show to reflect on her Verzuz with Cole and talked about the moment KC tried to play a song when it was actually her turn. Ashanti figured Keyshia simply was confused.
"I don't know if they lost count but what happened was obviously it's the first 10 records. So when she played 'Heaven Sent,' I guess she thought she was ending that batch of 10 but she didn't realize it was number 11. So for me, I gotta answer her so I'm gonna answer her with my number 11. And then we gonna start the next set and it's gonna be nine. So I think she kinda forgot and she kinda lost count."