Vixen Ari Fletcher is using her Twitter fingers to do more than just announce club appearances. The hip-hop model has come forward to speak out on a random rumor and also get extra flirty – and kinky – with her ride or die Moneybagg Yo.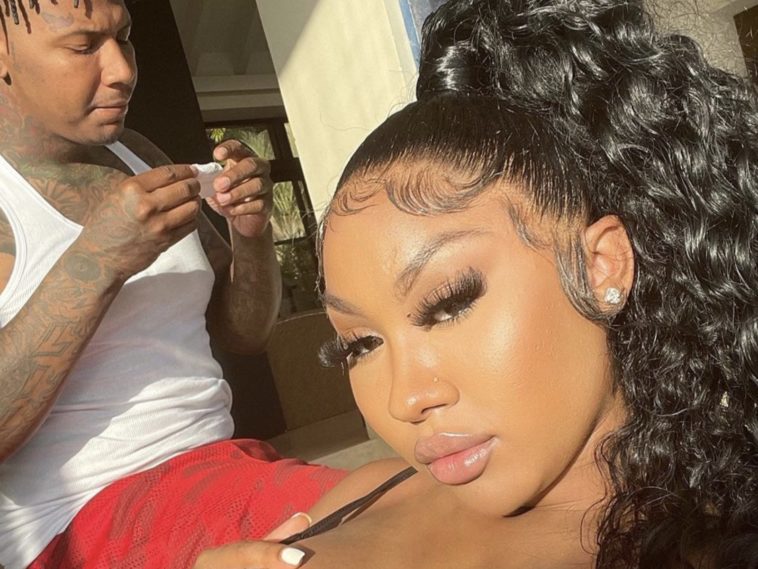 99 Views
Comments Off on Ari Fletcher Slams Rumor + Gets Kinky For Moneybagg Yo
Ari Fletcher Slams Rumor
Fletcher hit up her Twitter page to speak down on a random rumor seemingly suggesting she made a statement referring to her boo Moneybagg. Ari took it a step further by suggesting her and her "spouse" don't put everything out to the masses.
"Y'all said I was talking about him… everything in my life isn't about my relationship with my spouse. I don't owe y'all explanations to clear y'all assumptions up. That's why y'all need to mind y'all business."
Ari let the drama simmer quickly and relied on her social media page to get a little kinky with her bae by describing just how much she wanted to see him.
"I'm in the bed with your T-shirt on, nothing else… hurry back. If I'm sleep wake me 🙃"
Moneybagg Yo + Ari Fletcher Flex Relationship Goals
In May 2021, Ari Fletcher released a pic of herself and her man, who happened to have the No. 1 album in the country at the moment. Ari made it clear she and Moneybagg Yo hadn't been impacted by recent rumors of trouble in their relationship.
"Nothing but you… 🤍"
Moneybagg Declares Forever Loyalty To Ari
Around the same time, the "Time Today" hitmaker doesn't care what social media thinks. He was riding or dying for his queen Ari Fletcher and let the world know it.
"Ion give af wat y'all say me and ari was made for each other dats my dawg 🤞🏾🖤"
Fletcher made sure to hit up her own Twitter page to acknowledge Moneybagg's vow.
"❤️"
Moneybagg Yo Shuts Down Cheating Rumors
A few days prior, Moneybagg found himself in a dicey situation. The rap star had to speak up on getting dragged into a wild cheating scandal.
"Mane y these nothing a** b*tches lien on me tryna get clout smh I ain't know h*es a really lie on dey p*ssy , Sad anybody can just go up wit a lie and it go viral sh*t ain't cool it's too much real sh*t goin on for dat Capp sh*t !"
Initially, the drama appeared to start from notorious Instagram model Celina Powell spilling messy tea on Yo's personal life.
In an ongoing Tik Tok trend, users are supposed to say something shady about another individual and then pass the person they are talking about the phone for their turn. "I'm passing the phone to somebody still f*ckin' Moneybagg Yo," Chief Keef's baby mother said before passing Celina the phone. The rumor stirred a lot of controversy being that Moneybagg Yo has been in a public relationship with Ari Fletcher. (The Source)