A$AP Mob leader A$AP Rocky has been making headlines lately as people prepare for the release of his new music. After being seen in the studio with Metro Boomin and shooting a music video in New York with girlfriend and singer, Rihanna, anticipation for his new project All Smiles has reached an all-time high.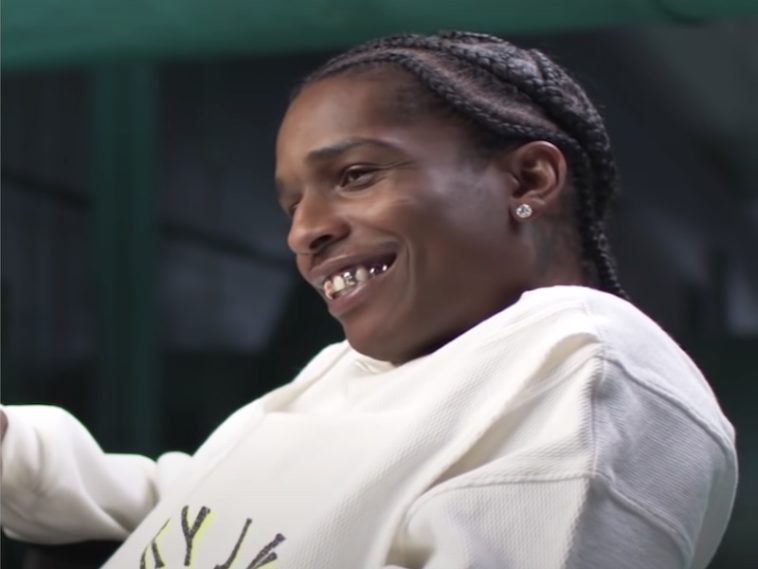 159 Views
Comments Off on A$AP Rocky's Grinding Again W/ New Music + Film
A$AP Rocky Teases Song From His Upcoming Album in PacSun Ad
A$AP Rocky recently partnered up with retail clothing brand PacSun to create a video advertising their new collection that is coming soon. In addition to releasing clothing with them, as well as creating a VANS shoe to be sold in PacSun stores, he is also the first guest artistic director for the brand.
The video, which appeared on his Instagram, features a ton of PacSun boxes being delivered to a mansion. The video then transitions to inside the mansion where a skate party is being held and a snippet of Rocky's new music is played in the background. In the Instagram post ASAP shared to his page he writes lyrics of the song and a thank you to the PacSun brand.
CLIP ON MY HIP LIKE THE BAC AH DA BEEPER THANK YOU 🔥@PACSUN🔥
A$AP Rocky and Rihanna Hit The Fire Escape While Shooting Music Video in NY
A$AP Rocky and his overnight ride or die Rihanna recently took over the Big Apple streets in brightly colored outfits while shooting a new music video presumably for the A$AP Mob boss' upcoming album.
Both music and fashion icons in their own right, it makes perfect sense Rihanna and A$AP Rocky would collaborate on a project such as this, wearing bright outfits drawing everyone's attention to the Bronx Fire Escape they were reportedly shooting on. This music video is thought to be a part of Rocky's upcoming album, All Smiles which he was seen working on with mega producer Metro Boomin.
"A$AP Rocky and #Rihanna spotted wearing brightly colored outfits on a fire escape and shooting a music video in NY 👀 👀 👀 (Via @tmz_tv on IG)"
This isn't the first time A$AP Rocky and Rihanna have collaborated on a music video. The duo previously linked for their "Fashion Killa" music video in 2013 which sparked premature JAY-Z and Beyoncé comparisons.
A$AP Rocky Confirms New Music's Coming Before We Know It
The Harlem native is low-key on more than just relationship goals with Rihanna these days. Buzz has developed about the A$AP Mob boss quietly getting back to his music-making grind despite the world remaining obsessed about his romance with the Barbados queen.
A few days ago, Boomin just had to let the cat out of the bag and give hip-hop heads all the motivation to stalk Rocky's social media feeds. The award-winning hitmaker shared snapshots of themselves in a recording studio setting and ultimately confirming Rocky's mighty return is imminent.
"FEEL THE FIRE @asaprocky 🔥🔥🔥"
What's more hype than Metro's guarantee is Rocky sneaking into his Instagram post's comments section to confirm the heat is coming.
"BUZZIN !! 🔥" -A$AP Rocky
"Classic" -Timbaland
A$AP Rocky + Rihanna Dating Goals Undeniable In NYC
Rocky might have the best excuse for not putting out an album since dropping 2018's Testing to the masses. Rihanna. In June 2021, some must-see shots randomly popped up online showing the inseparable duo together for a random night out. Rocky was shown donning his signature braids while RiRi couldn't go unnoticed despite rocking a furry pink hat.
This week, RiRi and Rocky clocked in big relationship goals together. The duo are shown in shots posted up at Soho Barcade – you guessed it – an arcade doubling as both a bar and hot spot packed with gaming options. More than games were being played as the duo locked lips and proved to be having plenty of fun together surrounded by other patrons.