New York rapper 50 Cent is doing much more than just clocking in friendship goals with his longtime mentor Eminem these days. The hip-hop executive has announced Slim Shady will play a vital role in his upcoming Black Mafia Family STARZ series.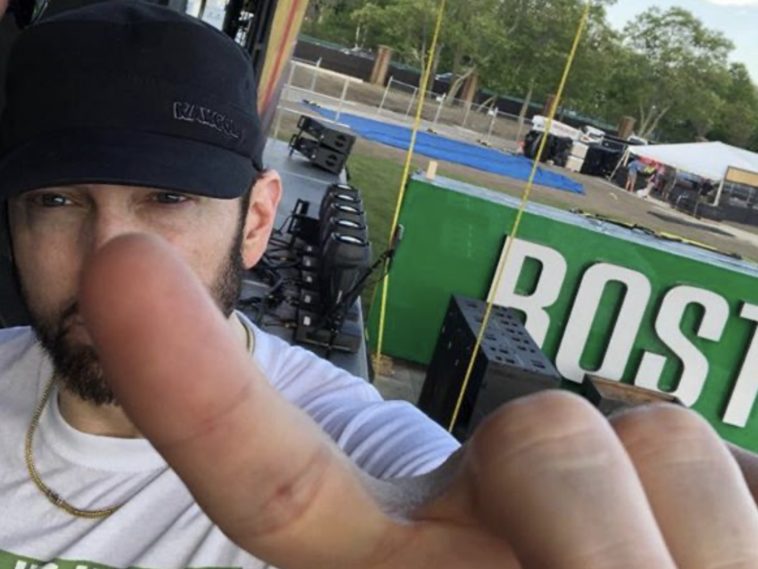 278 Views
Comments Off on 50 Cent Reveals Eminem Will Play Huge Role In BMF Starz Series
50 Cent Reveals Eminem's BMF Role
Fifty went to Instagram to confirm buzz about Marshall Mathers appearing in his highly-anticipated show. 50 announced being the person responsible for having Em play the role of real-life former Detroit criminal White Boy Rick a.k.a. Richard John Wershe Jr.
"Oh yeah i'm bringing the big dogs out, I couldn't do a show based in Detroit without incorporating the legend @eminem. Got him to play white Boy Rick in BMF, this sh*t is out of here. 🚦Green Light Gang @[email protected]"
50's big revelation ignited co-signs from G-Unit's Uncle Murda and his girlfriend Cuban Link.
"🔥🔥🔥🔥🔥🔥" -Uncle Murda
"🔥🔥🔥🔥" -Cuban Link
Eminem Confirms New BMF Series Role
The rap heavyweight also confirmed the unexpected power move in a formal statement. Fifty dished on just how much it means for him to appear in the upcoming production.
Eminem stans are gonna want to make sure they subscribe to Starz. The Real Slim Shady is set to guest star on new upcoming drama "BMF" ("Black Mafia Family"), TheWrap has learned exclusively. He'll (very briefly) play White Boy Rick on one episode of the 50 Cent production. "I'm honored and appreciative of my good friend Em for supporting my new show 'BMF,'" Curtis "50 Cent" Jackson said in a statement. "We couldn't do a show based in Detroit without incorporating the legend that is Eminem." (The Wrap)
Big Meech's Son Can't Wait For BMF's Debut
A few months ago, former BMF boss Big Meech's son Lil Meech went to his social media pages to plug the upcoming Black Mafia Family STARZ show. He shared a clip highlighting behind the scenes moments from the highly-anticipated series.
"WHAT ZIPPO SAY? THIS AINT HAPPEN OVERNIGHT. BLOOD, SWEAT, AND TEARS. WE NOT PLAYING FAIR @50cent BMF ON THE WAY AND WE COMING FOR EMMYS REMEMBER I SAID IT #FREEZIPPO"
50 Cent Celebrates Big Meech's Early Prison Release
The same week, the show's producer 50 Cent went to his Instagram page to share a snapshot showing Lil's dad Big Meech and huge early prison release news. 50 also promised his upcoming Black Mafia Family series would be even better as a result of Meech's good news.
"YES 😆 Now you know this BMF show is gonna 💣💨Blow everything off the f*cking TV, the real sh*t different ! 🚦Green Light Gang #bransoncognac #lecheminduroi #bottlerover"