New York rapper 50 Cent might want to keep his former flame Daphne Joy in his contacts list in case things don't work out with his boo Cuban Link. The hip-hop star's ex-girlfriend and mother to his son Sire Jackson has social media stunned with a thirst trap-approved new pic.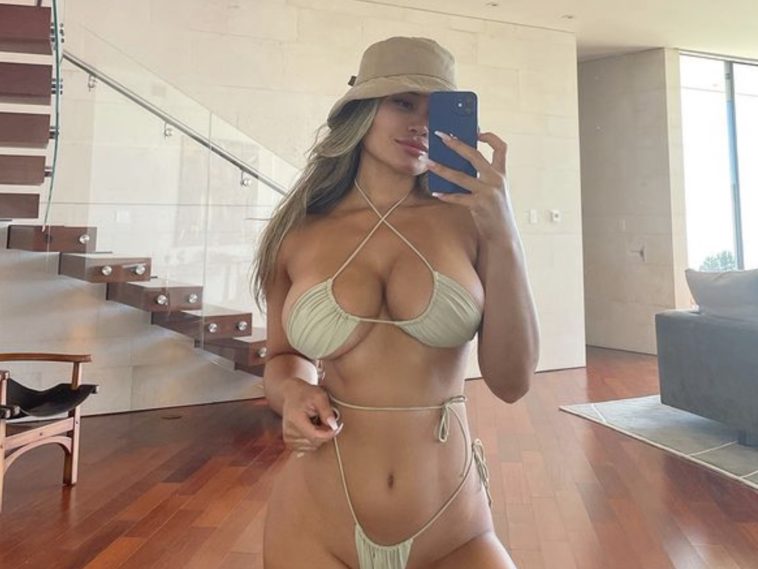 @sohh @sohhdotcom

129 Views
Comments Off on 50 Cent Ex's Semi-Nude Pic Has Erica Mena Speechless
50 Cent Ex's Semi-Nude Pic Is Jaw-Dropping
Joy went to her Instagram page with the eye-opening shot. The pic features her modeling alongside a pool and artistically using a coffee cup to cover her lower region.
"What's the tea?"
The possible Internet-breaking shot even left vixen Erica Mena stunned in her comments section.
"Wow" -Erica Mena
50 Cent's Daddy Duties
In August 2020, Fifty went to his Instagram page and didn't hold back on melting the world's heart with priceless daddy duties moments. Fif's father-son moment with Sire sparked positive co-signs from Daphne Joy and comedian friend Michael Blackson.
"me and little Big man SIRE. #bransonscognac" -50 Cent's Instagram

"💪🏽 🙌🏽" -Daphne Joy

"Everyday is Father's Day in your crib. Nothing like hanging out with someone that came out your balls. You are a loving father. Love this" -Michael Blackson

"Warm." -Jill Scott
In early June 2020, Curtis Jackson shared a few heartfelt moments alongside Sire. Fif unloaded a batch of pics showing just himself and his mini-me.
50 Cent Puts Sire Jackson First
In spring 2020, Curtis Jackson went to IG with a must-like shot. The pic featured Fifty rocking a shirt featuring late rapper Pop Smoke with Sire on his shoulders.
"Big 50, Little 50 you know the Vibes.🤨SireSprits get the app." -50 Cent's Instagram
Easter Time Activities
Back in April 2020, 50 talked about spending Easter with his son. He also shared a pic of himself showing off his food prep skills with Sire.
"Happy Easter enjoy your day God bless. #abcforlife #STARZ #BMF" -50 Cent's Twitter