Up and coming Detroit rapper 42 Dugg has been engulfed in controversy following his homophobic rant after people on social media criticized a video of him and son. Dugg has returned to social media to apologize for his comment and make an announcement about how he will handle family on social media from now on.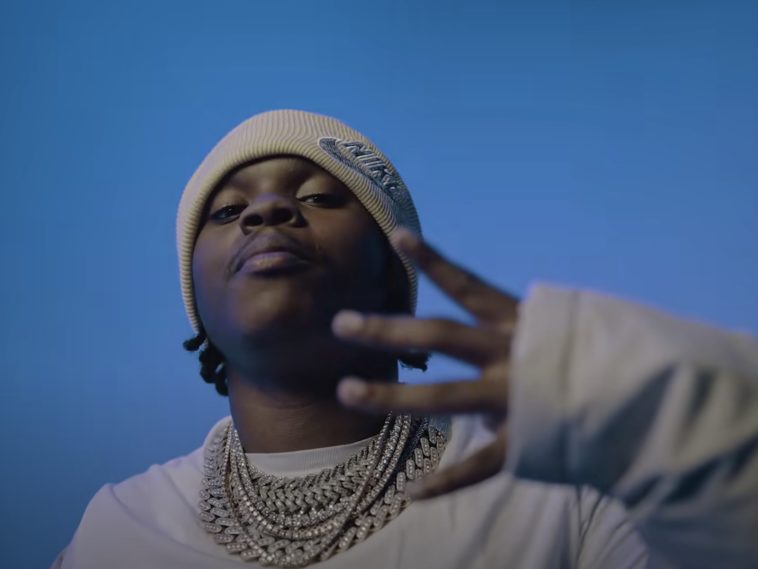 129 Views
Comments Off on 42 Dugg's Keeping His Son Offline
42 Dugg Apologizes For Homophobic Rant and Promises To Keep His Family Off Instagram
On the night of July 30th, 42 Dugg was trending on Twitter leaving many curious as to why, then many left regretting they ever let themselves look. Dugg shared a video on his Instagram story of him and his son which was then reposted by a twitter user.
The Twitter user (@HoodieLBJ) accused 42 Dugg being inappropriately affectionate with his son as it appears 42 is giving his son a hickey. This repost generated lots of commentary on Dugg's behavior with his son all over Twitter.
"42 Dugg wtf type kiss of this???" one person wrote. "I'm about to call CPS #IDontLikePeopleWho touch kids inappropriately. SMH." (@HoodieLBJ)

"seeing 42 Dugg give his son a hickey messed up my whole weekend…" (@xxrxggie)

"SMH why the f*ck did I check to see why 42 Dugg was trending" (@BlackBoy16_)
42 Dugg had an extremely negative reaction to this backlash about the video with his son and went to social media to let off some steam. In addition to calling those who called him out on Twitter "gay biotches", he also took this time to share his opinion on homophobia and DaBaby's treatment after his comments at Rolling Loud Miami.
"Ain't nobody going for that gay ass hoe ass sh*t y'all on. y'all quit to get on some GAY B*TCH ASS SH*T BUT WHEN AS N*GGA JUMP DOWN ON ONE YOU HOE N*GGAS AND CALL SOMEBODY OUT WE HOMOPHOBIC. DON'T NOBODY GIVE AH F*CK ABOUT THAT SH*T YALL DON'T NONE US WE ENTERTAINERS THATS IT.

WE NOT HERE TO coach you on life if I say I'm not with that gay sh*t that's where y'all should leave it quit tryna shove that sh*t down n*ggas throats, ah gay n*gga ah be on national tv tonguing another HOE ASS N*GGA, but that's ok though y'all or no other muthaf*ckas on earth ain't finna make me like SH*T ION LIKE."
Now after the incident with his son and the rant, 42 Dugg is taking a step back from social media, telling fans that his page will now solely be used for music promotion. Dugg also made sure to apologize for the rant, saying that it wasn't his intention to hurt anyone.
"It never be my intentions to offend anybody even when I'm offended so for that I am sorry. I'm Ah very private person when it come to personal shit such as my son or my family in general. People tell me I need to take more pictures or you know let my fans see something about me other the music…

For y'all to take that moment and make it what y'all did just reminded me of why I keep my family private. I will not be showing my son or any of my family on this Shit again y'all lost that privilege this for me to promote my music and that's what I'm gone use it fr nothing more nothing less."
42 Dugg Names His Top 5 Favorite Rappers Right Now
Speaking of music promotion, 42 Dugg is putting major respect on some hip-hop heavyweights' names. The new XXL Freshman Class inductee recently cracked and let fans know what five rappers easily make it into his Top 5 list.
The "We Paid" rapper listed his five with ease. While rap icons like JAY-Z and Nas typically land on people's lists, the Motown native opted for a more Southern-based line-up of music elite.
"What's going on, this is 42 Dugg. My top five favorite rappers are Jeezy, [Yo] Gotti, Boosie [Badazz], Future and DMX. I just feel like each artist appeal to my life in a different way as far as something they've been through, far as something they're rapping." (XXL)
42 Dugg Gets Major Recognition
Dugg is getting some major recognition from the music industry. It was announced recently the up-and-coming star has landed a new publishing deal. 42 Dugg is preparing to partner with one of the largest publishing companies in the music industry. Representatives from Warner Chappell explained the motivation behind the partnership was to tap into Dugg's potential before he inevitably blows up.
"This is 42 Dugg's moment. His performance on 'We Paid' has earned praise from fans, fellow artists, and critics alike, and I believe he's well on his way to becoming one of the industry's next big stars." (Variety)
Dropping Heat With Funk Flex
In April 2021, New York rap veteran Funk Flex went to his Instagram page to share the ultimate teaser clip. Along with new audio, the Hot 97 icon let loose a preview of a 42 Dugg music video.
"SNIPPET : NEW COLLAB! FunkFlex / @42_dugggg !!!!!! Saturday 7pm @hot97 might play a snippet !!!! Cranking!!!! @flexotb I appreciate u my brother!!!! @pressplay_ent x @yogotti x @lilbaby x @acker360 thanks again! WHO ELSE SHOULD I COLLAB WITH????"