If you didn't like that stunt Lil Nas X pulled with the "Satan sneakers" and Lucifer video feature, then you really won't like what controversial rapper Trippie Redd has coming soon. The platinum-selling artist is launching a new collection of demonic-themed apparel.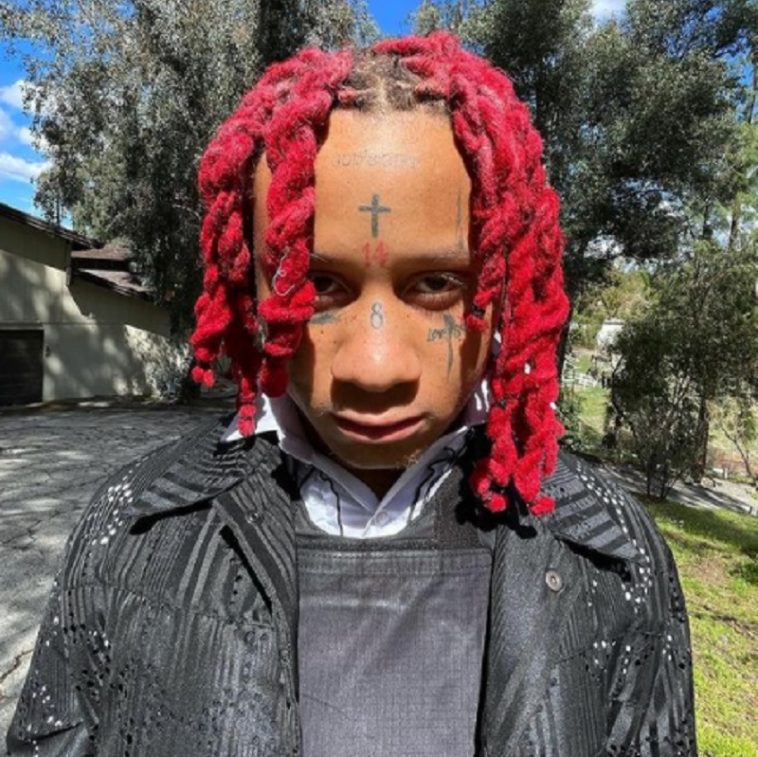 99 Views
Comments Off on Trippie Redd's New Collection Will Offend A Lot Of People
Trippie Redd Launches Demons At Play Apparel
"Miss The Rage" hitmaker Trippie Redd has turned one of his tattoos into a whole fashion statement. The Ohio native's Demons At Play apparel collection is named after a piece of his body art. The hoodies and sweatpants feature "6-6-6" imagery, devil horns and devil tails.
"Follow my other account right now @demonsatplay if u like wat u see in the pictures I'm dropping soon be one of the first to get hip 💋"
Playboi Carti + Trippie Redd Surprised Fans W/ 'Miss The Rage'
Seemingly out of nowhere, Atlanta rapper Playboi Carti and Trippie released their anthem through 10K Projects and Virgin Music. "Miss The Rage" follows Trippie's first-ever rock album NEON SHARK produced by rocker Travis Barker.
"🤍MTR Is a classic I love y'all let's take this shit to the next level 🦇"
Playboi Carti Takes Over Grocery Store In 'Sky'
Earlier this year, Playboi Carti dropped his "Sky" music video. The visual is shot primarily in green and directed by Nick Walker.
Today, Playboi Carti dropped a new video for hit track "Sky" off of his latest album, Whole Lotta Red. The video was directed by Nick Walker. In January, Playboi Carti landed his first #1 album on Billboard's 200 Chart with Whole Lotta Red. The album, released on Christmas day, sold 100,000 units and received 160 Millionglobal streams within its first week. In addition, Whole Lotta Red trended #1 upon its release on Twitter, and tracks from the album held 3 out of the top ten trending spots at YouTube including #1 upon release.
Debuting At #1
The ATL star had the first #1 album of 2021. Whole Lotta Red debuted on top of the Billboard 200 with some major first-week units. Carti also beat out country music Taylor Swift for the #1 spot. WLR's first week projections came in at 110,000-115,000 units, and ended up moving 100,000 units.
After spending two weeks at #1, Taylor Swift's evermore (Republic) moves to #2, while Lil Durk's The Voice (Alamo/Geffen/Interscope) moves up to #3 in its first full week of action.
Playboi Carti (Interscope) 110-115k
Taylor Swift (Republic) 75-80k
Lil Durk (Alamo/Geffen/Interscope) 65-70k (HITS Daily Double)