R&B singer Trey Songz has been hit with another lawsuit related to an alleged sexual assault victim identified as Jane Doe. Record executive Kevin Liles was also named in the lawsuit as a defendant.

149 Views
Comments Off on Trey Songz & Atlantic Records Hit With $25M Lawsuit
Updated By: Kendall Parks (2/10/23 at 4:33 pm)
The "Bottoms Up" singer is getting sued by an alleged sexual assault victim, Jane Doe, following a case dismissal due to statute of limitation laws.
A member of the accuser's legal team, George Vrabeck, also released a statement on Atlantic Records' Kevin Liles' involvement in the lawsuit.
"This case is much more than about one singer and one viciously abused sexual assault survivor who has the courage to take action," he said.
"It's also very much about the systematic sexual assault abuse in the music industry and the music industry's complicity in silencing sexual abuse survivors." Vrabeck added, "It's virtually impossible to believe that those executives are not and were not aware of the institutionalized sexual abuse."
The singer also denied the claims in a post on his Instagram stories.
"Lies will never be the truth, no matter who chooses to believe such."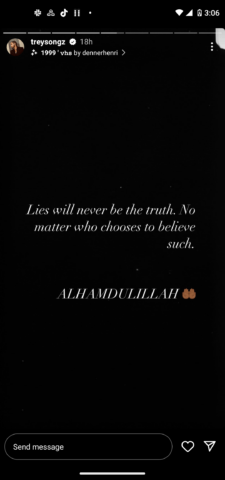 Trey Songz Case Dismissed Based On Statute Of Limitations In California
Trey Songz's rape case was recently dismissed in court due to California's statute of limitation laws.
According to TMZ, Trey Songz's name is clear after the courts dismissed his 2016 rape case yesterday. The paperwork reveals the "Heart Attack" artist's legal team won the argument over the statute of limitations. the accuser, identified as Jane Doe, waited too long to file the civil suit.
California statute of limitations is currently ten years, which became official in 2019. 
Trey Songz Faces New Allegation Of Anal Rape
The lawsuit, filed in Los Angeles, makes the third complaint in months against the singer. This was also amidst other general accusations and rumors of abuse made in the media by alleged victims.
Trey Times A Charm
Trey Songz "can't help but wait" – or touch it seems. The allegation came just weeks after former basketball star Dylan Gonzalez accused Songz of sexual assault.  
The victim sought $20 million in damages. She claims she and Trey Songz had a casual and "occasionally sexual" relationship. She then alleged that things turned dark on March 24, 2016, when he raped her anally.
Court documents state the accuser, "Jane Doe," required emergency medical care after the assault, which she claims happened during a party in West Hills, California. 
The plaintiff alleged that Trey Songz transformed into a "violent rapist" when he took her upstairs to a bedroom. She also asserted that she "screamed in pain" and "begged" him to stop, as court documents state. 
According to court documents obtained by TMZ, "Trey Songz threw Plaintiff Jane Doe to the ground, ripped Plaintiff Jane Doe's pants off, pinned Plaintiff Jane Doe down face first and forced Defendant Trey Songz' penis into Plaintiff's anus without Plaintiff Jane Doe's consent. Plaintiff Jane Doe screamed in pain and begged Defendant Trey Songs to stop. Plaintiff Jane Doe tried to fight the defendant off her but was overpowered."
Jane Doe added an unidentified person walked in on the act but immediately departed, allowing the rape to continue. The plaintiff says she fled the house immediately after the assault and took an Uber to the Providence Joseph Medical Center Emergency Care Unit at midnight on March 25, where doctors told her she had "severe anal tearing that could require surgery" because of the attack.
The survivor claims in the court documents that she did not initially give Songz's name to the police investigating the assault because she was both in shock and "fearing for her life." She states she suffered from "severe emotional distress," which she says has shown up as "fear, anxiety, humiliation, depression, and other physical and emotional injuries, and damages (both economic and non-economic)."
Trey Songz Fires Back
A Trey Songz representative denied the allegations and accused Ariel Mitchell, Esq. – one of the attorneys representing the alleged victim – of witness tampering in a separate case. TMZ obtained court documents, where Songz's attorney alleged that Mitchell was soliciting testimony from alleged sexual assault victims and promising them a "large payday" for lying about an assault incident by Trey Songz.
"It isn't hard to see what's happening here, and it is a shame for genuine victims of sexual assault. The allegations in this complaint are false. Trey looks forward to having the facts fully aired," said Songz's attorney. 
Mitchell told Page Six that there is no witness tampering and that Songz lawyers are deflecting to take the heat off their client.  "The allegation is without merit and is a desperate attempt to shift the narrative away from Trey Songz's consistent pattern of predatory behavior. "Trey Songz has a sordid history of attacking women… I look forward to seeking justice for my clients, who have been assaulted by Trey Songz."
Mitchell and case partner, George Vrabeck, gave a joint statement to TMZ saying that there are more allegations on the way. 
Victims are coming forward every day.  Just know you are not alone, and this behavior is unacceptable.
Changing Views On Trey Songz
Songz has a rather extensive history of allegations of sexual violence and abuse against women. As the allegations have come out, Trey Songz continues to lose his credibility within the R&B community. Some have even compared him to jailed R&B star, R. Kelly.
Others have stated that for Songz to have this many accusers, there must be some truth to the allegations.
"Nobody gives a "fuck" when Black women say something," says actor/singer Keke Palmer, who intimated her own sexual intimidation accusation against Trey Songz.  "I'm not going to try to tear no black man down…so if I say something I'm saying something for a reason."
Fans accused the media of pushing narratives for clicks and the lawyers of making accusations to extort funds from the embattled singer.