Rap crooner Tory Lanez wants Sha'Carri Richardson to stay focused on becoming the best. The hip-hop star has stepped up to speak out on the famous track and field star following her Prefontaine Classic performance in Oregon.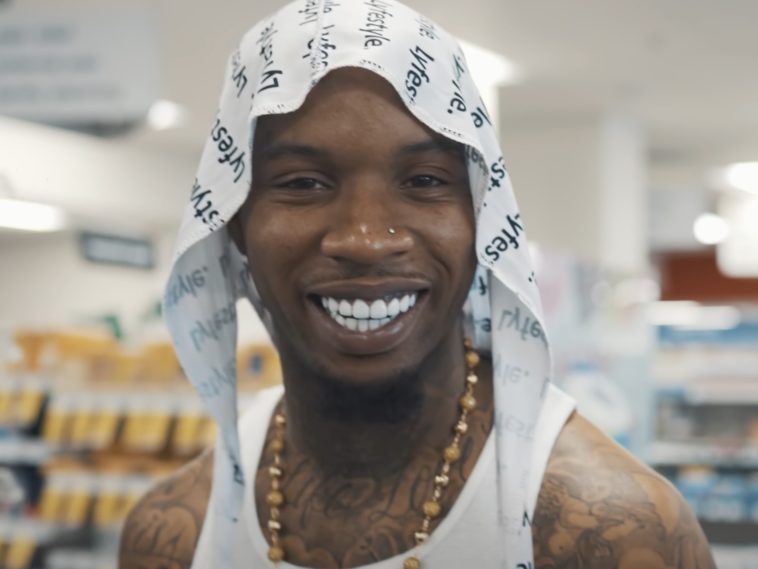 190 Views
Comments Off on Tory Lanez Comes To Sha'Carri Richardson's Defense: 'Your Time Is Coming'
Tory Lanez Comes To Sha'Carri Richardson's Defense
TL hit up his Twitter page and reminded Richardson why she's destined for success. Lanez took things the deep route and acknowledged how she stepped up to the challenge of racing despite a recent cannabis ban.
"Sha'carri ran a great race , not because she Won or lost … because through all the adversity she got up and RAN AGAIN , and GAVE IT HER ALL … she went through a lot of within that last month … n*ggas be on the app preaching all this "uplift" our queens .. Then tear em down … It be cool to support niggas when they get a video with Kanye tho …. All I'm saying is … don't choose to be supportive to the people you champion when it's convenient… BE REAL AND SUPPORTIVE 2 PEOPLE through they UPS AND DOWNS . … SHA'CARRI …. KEEP FIGHTING.. WORKING .. AND PRACTICING !!! AND GO HARD AT YO CRAFT ! … YOUR TIME IS COMING … CAUSE GOD SAID SO !!!!"
Sha'Carri Richardson Finishes Last
After mounted anticipation for a mighty return to the track, Richardson finished last in the Prefontaine Classic in Eugene. Her time of 11.14 seconds in the 100 fell well behind Olympic gold medalist Elaine Thompson-Herah from Jamaica.
"It was a great return back to the sport. "I wanted to be able to come and perform having a month off. … Not upset at myself at all. This is one race. I'm not done. You know what I'm capable of. … Count me out if you want to. Talk all the sh*t you want, 'cause I'm here to stay. I'm not done. I'm the sixth-fastest woman in this game, ever. And can't nobody ever take that from me. Congratulations to the winners. Congratulations to the people that won, but they're not done seeing me yet. Period." (NBC)
Richardson's Temporary Ban
Earlier in the summer, Richardson couldn't compete in the Tokyo Olympics as a result of testing positive for cannabis. The situation sparked headlines and ignited ample fury with vast supporters backing Sha'Carri.
The 21-year-old Richardson accepted a 30-day ban after testing positivefor a chemical found in marijuana after her victory in the 100-meter finals at the Olympic trials on June 19. Her title was stripped and she was left off the roster for the Tokyo Games by USA Track & Field. After she received the ban, Richardson said the stress of her biological mother's death combined with the pressure of preparing for the Olympic trials led her to use the drug. (ESPN)
Owning Up To The Cannabis Incident
A few weeks ago, Richardson stepped up and addressed the ban. She specifically took responsibility for her actions but also acknowledged a family death influenced the decision.
During an appearance on NBC's "Today" Show, Richardson revealed that she ingested the substance after being informed by an interviewer that her biological mother had passed away. Regardless, she issued an apology.  "I want to take responsibility for my actions," she said on NBC on July 2. "I know what I did. I know what I'm supposed to do. I know what I'm allowed not to do, and I still made that decision." (USA Today)