New York rapper Tekashi 6ix9ine is looking NFL-ready. The hip-hop star has linked up for a super random and epic training session with Super Bowl champion Antonio Brown.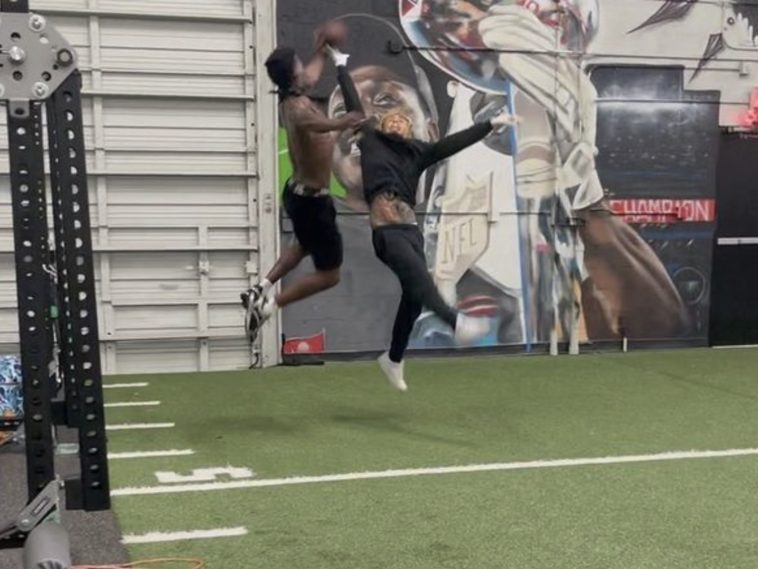 149 Views
Comments Off on Tekashi 6ix9ine Plays Ball W/ NFL Champ Antonio Brown
Tekashi 6ix9ine Plays Ball W/ NFL Champ
AB went to his Instagram page to share the epic moment to the masses. The footage features Tekashi covering him inside a personal training facility in Florida.
"81 + 69 = 84/7 #Boomin #CallGod"
The footage sparked a flurry of celebrity reactions in the comments section.
"Smh" -Jim Jones
"😓😓" -Chad Johnson
"C'mon gang u tripping .." -Doe Boy
Tekashi 6ix9ine Names Best Rap Performer
Earlier in the week, the Brooklyn native hit up Instagram to share a flashback to last Saturday's Miami concert. Along with putting big respect on his name, Tek acknowledged seeing some tough guys in the crowd of screaming attendees.
"IM THE BEST PERFORMER IN THE RAP GAME ‼️🌈🌈🌈🌈 15,000 PEOPLE IN MIAMI THANK YOU SO MUCH I LOVE YOU 💛💜💚💙🧡❤️💛 BY THE WAY I SEEN A LOT OF YOU GANGSTERS IN THE CROWD 😭😭😭😭😭😭😭😭😭😭😭😭😭😭😭"
Tekashi 6ix9ine Pays Respect
6ix9ine pulled through last Saturday night for a jam-packed event. Along with sharing the stage with other artists, Tek notably saluted slain Florida rapper XXXTentacion who died in June 2018.
"R.I.P X 😔"
Reveals What Crazy Antic's On Deck
Earlier the same week, 6ix9ine hit up his Instagram page to play with followers' heads. Tekashi shared a shot of himself draped in multiple colors and hinting at a stage jump possibly going down Saturday night in Miami.
"SHOULD I JUMP IN THE CROWD TOMORROW INFRONT OF 15,000⁉️ @boohoomanofficial 🌈🌈🌈"
A few days ago, Tek shared footage of himself turning up at a packed concert.
""He NoT GonNa bE Able tO cOmE ouTsiDE" JUMPED IN THE CROWD WITH ALL MY JEWELRY 2,000,000 WORTH. REAL LIFE > THE INTERNET If you mad just say that don't @ me"