Vixen Taina Williams is enjoying her post-giving birth life. The ride or die to Chicago rapper G Herbo goes online with an absolute slay for the cameras, back better than ever.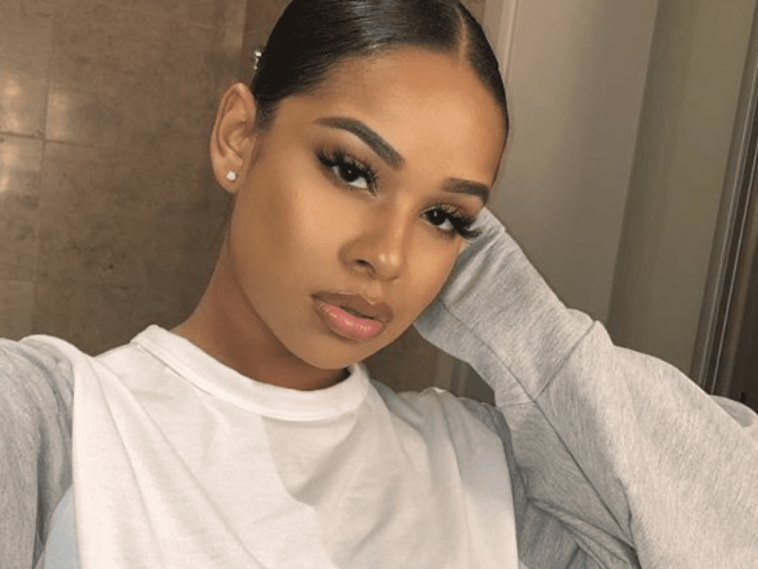 179 Views
Comments Off on Taina Williams Bounces Back After Giving Birth
Taina Williams Slays On Instagram
The stepdaughter of rap heavyweight Fabolous was looking fabulous and fire in a marble-pattern dress. In the caption, she made it absolutely clear she's got everybody melting over her.
"Know I got the key to your heart in my night stand 🤞🏽"
Fellow vixens including Lil Wayne's ex Toya Johnson and DaniLeigh hopped in the comments. They kept it simple but gave Williams mad love.
😍 – DaniLeigh
Cutie 😍😍 – Toya Johnson
G Herbo says Ari Fletcher Had Nothing to Do W/ Being Blocked by Taina Williams
Herbo and Taina had the Internet talking when fans realized she had blocked and unfollowed him only a month after the birth of their child. The Chi-Town rap heavyweight recently forward to provide some much-needed clarity into where things currently stand between himself and what some people believe is now his former flame.
G Herbo recently appeared in an interview on Atlanta radio station Hot 107.9 and when asked about whether going to his ex girlfriend's party was the reason for the blocking incident, he took the time to clear the air.
"…it wasn't an issue. She didn't really feel a way about me going there, know what I mean. It's just the narrative people try to create. She didn't even block me for going there. She had blocked me for sh*t I was trolling her about, me and her talking personally…trust me she didn't really feel a way about that. " ("Posted On The Corner")
Taina Reveals If She Really Split From G Herbo
Taina Williams would politely like the Internet to r-e-l-a-x. Earlier the same week, the hip-hop model came forward to address – and confirm – speculation about unfollowing or even blocking her ride or die G Herbo following an appearance at his former boo's party.
Literally just weeks after welcoming in their son Essex Wright to the world, Taina popped online to put a little clarity into the air. While she confirmed unfollowing rumors, Williams did acknowledge she's still with him despite a mini-fallout.
"😂😂😂 … That's still my man he just blocked .. nothing to see here 🥰"
Speculation ultimately developed after Herbo showed up at Fletcher's party this past weekend for her birthday bash. Despite Fletcher being in a committed relationship with hip-hop boyfriend Moneybagg Yo, it didn't stop people from speculating this is what sparked a rift between Williams and G.
G Herbo Captures His Newborn Son
In May 2021, Herbo went to his Instagram page with an amazing shot. The pic featured Essex practically smiling from ear to ear.
"HOW I SLEEP WHEN I GOT A RAW A** FIT TO PUT ON TOMORROW😭😭😭😭"
A few days prior, Herbo hit up IG with some must-see footage. Things started off with G joking about having big feet in his bed before the clip showed him rubbing fiancée Taina's toes.
"Bro, fix your face. Like, I was never this swollen until I gave birth. Like what is this?"