Rapper BTB Savage was murdered in Houston, Texas, near the River Oaks area. Savage recently went viral after posting a picture on Instagram standing in the blood of a man who attempted to rob him. Did flexing get him killed?

190 Views
Comments Off on Rapper BTB Savage Killed In Houston After Flexing In His Attacker's Blood
What Led To BTB Savage's Death?
Police in Houston, Texas, are investigating a fatal shooting near the River Oaks area that they believe was a targeted crime. The incident occurred around 6:10 p.m. on Thursday, March 30th.
The victim's identity has not yet been officially released, and the suspects remain at large. However, reports by Vlad TV claim it to be rapper BTB Savage. 
Before the fatal incident, Vlad interviewed Savage on March 26, where he claimed his girlfriend killed a man that attempted to rob him in self-defense. BTB Savage garnered mass attention after he posted a graphic social media post standing in the man's blood. 
In the interview, BTB claimed the men who attempted to set him up are also rappers, who claimed they wanted to collaborate on a song with him. 
Did This Rapper Just Admit To The Murder Of BTB Savage?
BTB Savage's murderer has yet to be identified, however, he may have admitted to his crimes on Instagram. In a post-and-delete, Texas rapper BJ Got Damn took to Instagram shortly after Savage was reportedly shot. 
The caption stated: 
"TRYNA SEE WHEN HE GON DO ANOTHA MF INTERVIEW WIT DAT @btb_.savage GUY 
PROLLY NEVER AGAIN HUH DAWGGY 😔😔😂🤣💀💀💀💀💀🚬🚬🚬"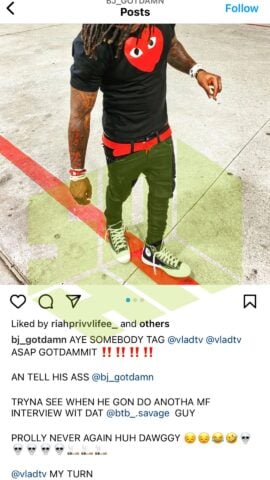 BJ used several cigarette emojis which referred to Savage getting "smoked." Smoked is a slang term for someone who was shot. BJ not only made fun of Savage's murder, but he even asked if he could also be interviewed by Vlad for flexing the crime, stating "My Turn." 
Several people in the comments have tagged the Houston Police Department. No arrests have been made at this time.