Chicago rapper Polo G values the opinion of his fanbase. The "RAPSTAR" hitmaker has officially revealed the tracklist for his yet-to-be-released album, Hall of Fame through social media, along with an important question for his day ones.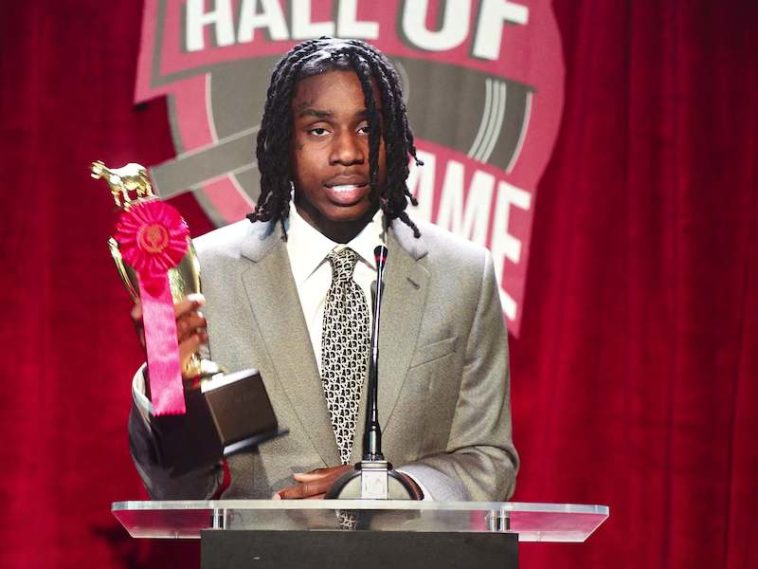 149 Views
Comments Off on Polo G Needs Help From Fans For His Biggest Album Yet
G Needs Feedback
In a surprise Twitter post revealing the tracklist, PG directly asked fans to name the song they wanted to hear most off of his new album.
"Hall of Fame🏆🖤🙇🏾 Lmk Which Track u most Excited To hear????"
The listing includes some of the hottest names in the rap industry, like Nicki Minaj, DaBaby and Lil Wayne. This ignited fans replying with excitement and eagerly nominating their favorite collaboration pairings.
THE NICKI FEATURE 🔥🔥🔥
All of them frfr
Lil Wayne, Rod Wave, & The Queen all on ONE album?!?! A number one album in the streets & on the charts i fear-
Polo G Confirms His Album Is Complete
In mid-May 2021, G responded to a Twitter fan account dedicated to him with the comment, "100%" co-signing a report about his album being finished. The LP is anticipated to be Polo's biggest project yet and follows quickly after his highly successful "RAPSTAR" single.
"100%"
Moneybagg Yo Gets Polo G + Huge Guest Features
In April 2021, Memphis rapper Moneybagg Yo demonstrated he knew talent, when he saw it, especially in Polo G. Yo's latest album came packed with over 20 songs, including one featuring G. Besides Polo, Yo also shared mic time with hitmaker Pharrell Williams, Jhené Aiko, Future, Lil Durk, and more.
1. Memphganistan (Ft. Kaash Paige)
2. Just Say Det
3. GO! (With BIG30)
4. Wockesha
5. Shottas (Lala)
6. Hard For The Next (With Future)
7. If Pain Was A Person
8. I Believe U (Ft. TripStar)
9. Time Today
10. Interlude
11. Free Promo (Ft. Polo G & Lil Durk)
12. Hate It Here
13. Love It Here
14. Clear Da Air
15. Projects
16. One Of Dem Nights (Ft. Jhené Aiko)
17. FR
18. Certified Neptunes (Ft. Pharrell)
19. Change Da Subject
20. Least Ian Lie
21. Bipolar Virgo
22. A Gangsta's Pain
The same week, Moneybagg hinted at this album going down as one of his all-time greatest releases.
"I'm Talkn Soo Much Shit !! This Bout To Be My Biggest Project Eva I Stamp Det !! #AGangstasPain 4/23 GO PRE-SAVE NOW !! #linkNbio"
Polo G Reaches Career Milestone With 'RAPSTAR'
In May 2021, "RAPSTAR" put Polo on top of the mountain for the first time in his career. It is his highest-charting song since 2019's "Pop Out" (feat. Lil Tjay). Polo's last album, The Goat, peaked at No. 2 on the Billboard albums chart in 2020.