Ne-Yo and Crystal Renay have finalized their divorce. The new divorcees officially split after Renay took to her Instagram and blasted the "So Sick" singer with allegations of a baby with another woman.

264 Views
Comments Off on Ne-Yo & Ex-Wife Crystal Renay Finalize Divorce
Updated By: Kendal Parks (2/2/23 at 2:12 pm)
Ne-Yo and Crystal Renay are officially divorced. The former couple finalized their divorce months after Renay blasted the singer on social media, saying he had been cheating on her with another woman shortly after they remarried.
Crystal seemed to embrace her newfound singlehood with a message about growth through an Instagram story.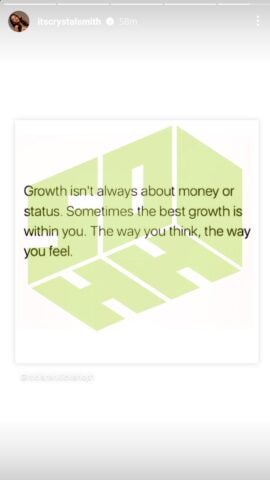 The two will share joint custody of their children. They also agreed to not have them around their new partner unless they are married or engaged and one approves it.
Ne-Yo will also have to pay $12K in child support for the three children he shares with Renay. The singer also pays $1.6M to balance their real estate holdings.
Renay gets one of the four homes Ne-Yo has in Georgia, along with $20K in moving expenses. Ne-Yo will also have to pay $5K a month in alimony for the next three years. Her personal costs include $150K to buy a new vehicle, as Ne-Yo will keep a 2022 Bentley Bentayga.
Ne-Yo's Wife Blasts Him On Social Media For Allegedly Cheating & Hints At Divorce
Ne-Yo and Crystal Smith's six-year marriage was in hot water due to some mistrust behind the scenes.
Ne-Yo's now ex-wife, Crystal Smith, took to her Instagram and indicated that there was some trouble in paradise when she blasted the singer for cheating:
Smith said:
"Eight years of lies, deception, and sharing, life and husband with numerous of women who sell their bodies to him unprotected.."
The singer's wife continued:
"I choose my happiness, health, and respect, I gained three beautiful children out of this but nothing else but wasted years and heartache. I ask that you all please stop sending me videos or information of him cheating because what he does is no longer my concern. If someone can't love you the way you deserve then it's up to you to love yourself, with no hate in my heart I wish him nothing but the best."
Ne-Yo responded to his wife on Twitter, calling for everyone to let him and his wife fix their marriage in private:
The "So Sick." singer tweeted:
"For the sake of our children, my family and I will work through our challenges behind closed doors. Personal matters are not meant to be addressed and dissected in public forums. I simply ask that you please respect me and my family's privacy at this time."
Bad Publicity?
After addressing the issues in his marriage, Ne-Yo posted a video for his new song "Don't Love Me" which he dropped two months before. A user on Twitter wasn't pleased with Ne-Yo promoting his single in the midst of his marriage troubles:
"I loathe artists that use bad publicity to promote their shit, those are very shitty people."
Ne-Yo Renews Vows With Wife Crystal Smith
A few months ago, the marriage seemed as if it was back on track after the couple renewed their vows.
Singer Ne-Yo and his wife Crystal Smith got re-married in Las Vegas in an attempt to give the relationship a second chance. The wedding had a few celebrity guest attendees, such as Nene Leakes, Melody Holt, and Tammy Rivera.