Lil Durk and India Royale had the culture in a chokehold, with fans gawking and praising them for "rap couple goals." From the Chicago rapper's onstage proposal to India allegedly selling everything he bought her after a messy breakup, here's a brief timeline of the two ex-love birds' relationship.

109 Views
Comments Off on Lil Durk & India Royale's Rocky Relationship Timeline
Updated By: Kendall Parks (3/13/23 at 6:16 pm)
March 2023: Lil Durk Gets Called "Delusional" For Instagram Post About India Royale
Lil Durk recently posted a message to his ex-girlfriend India Royale sending her love through social media days after her birthday and thanking her for being there for him. Fans reacted by calling the rapper delusional.
The "Petty Too" artist went on social media to send a positive message to his ex-girlfriend India Royale for her birthday, mentioning what she meant to him.
Many fans on social media called the Chicago artist "delusional" in their response on Twitter.
One fan commented on how Durk believes he and Royale are getting back together soon.
"Lil Durk is the scary kind of delusional, cause he really thinks India and him are still together."
Before Durk's emotional confession on his Instagram story, Royale was spotted on vacation in Bali with a mystery man that turned out to be just a friend.
Updated By: Journey Green (2/15/23 at 11:30 am)
Valentine's Day 2023: India Tells Durk To Let It Go…
Durk and India have officially been broken up for several months. On Valentine's day, Durk decided to post an Instagram story tagging India, wishing her a Happy Valentine's Day.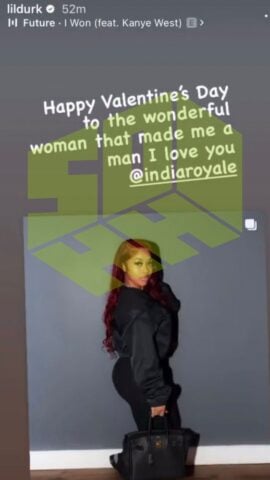 He followed up with a second post that shut down internet trolls, stating they should "leave certain people alone."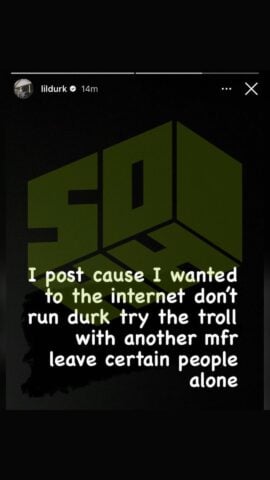 India then responded on her alleged Twitter account "Let It Go." Royale also stated in now-deleted tweets, "People really don't respect boundaries."
October 2022: India Sells Everything
Lil Durk's ex-girlfriend India Royale's Instagram account sparked speculation that she may be selling all the clothes he bought her.
September 2022: Publicly Call It Quits
In September, Lil Durk and India Royale officially called off their engagement. Fans speculated infidelity. They then went on to sub each other on Instagram.
December 2021: Engaged
Chicago rapper got down on one knee while performing at a local radio station's Big Jam concert in his hometown. He showered India with love first before asking the question, "Do you want to be my wife?" – to which she answered yes.
October 2021: Lil Durk Transgender Cheating Rumors 
Black Twitter exploded when Lil Durk completely wiped his Instagram clean as the rumors spread, leading many to believe the rumors might be true.
The allegations surfaced after an Instagram account posted pictures of someone who appeared to be Durk with a transgender person.  Followers quickly shared the post causing it to trend.  Durk responded by wiping out his Instagram account.
2021-2022: Lil Durk's Secret Baby Mama Isn't So Secret Anymore
The Laugh Now, Cry Later artist's personal business was exposed to no end. The Voice star was called out by his apparent secret baby mama, Travonna.
On a YouTube show called Unwine With Tasha K, the alleged mother of Durk's son accused LD of being an absent father. Travonna also called attention to Durk for flashing his money by wearing designer clothes and expensive things but never supporting her or their seven-year-old son.
2020: Lil Durk + DaniLeigh Dating Rumors
After a video of DaniLeigh showing Durk some dance moves surfaced on IG, fans immediately ran with rumors that the pair had something going on. 
Dani, who recently broke up with DaBaby, jumped to Durk's defense: 
"Y'all do me a favor and chill tf out !!" "Ain't no boundaries crossed / or anything like that at all happened, he mad respectful and shows off his relationship every sec he has so stop with the bs tryna start sh*t."
2017-2018: Cuffing Season
Durk had some deadly love in his heart for Valentine's Day. The hip-hop artist reminded his millions of fans how much he cared about his then-girlfriend, India.
The two began dating in 2017.
Megan Thee Stallion Debunks Engagement Rumors After Celebrating Anniversary With Boyfriend Pardi Fontaine
Recently, Megan Thee Stallion and her boyfriend Pardison Fontaine celebrated their second anniversary and fans were fawning over their love. Engagement rumors were then sparked, which Megan later addressed on her Twitter account.
Additional reporting by Nicole Bartley.