Grammy-winning rapper Kanye West's sister-in-law has social media buzzing with her relationship goals. The hip-hop star's family member Kourtney Kardashian has ignited some online steaminess courtesy of a bedroom pic presumably of her and rocker Travis Barker.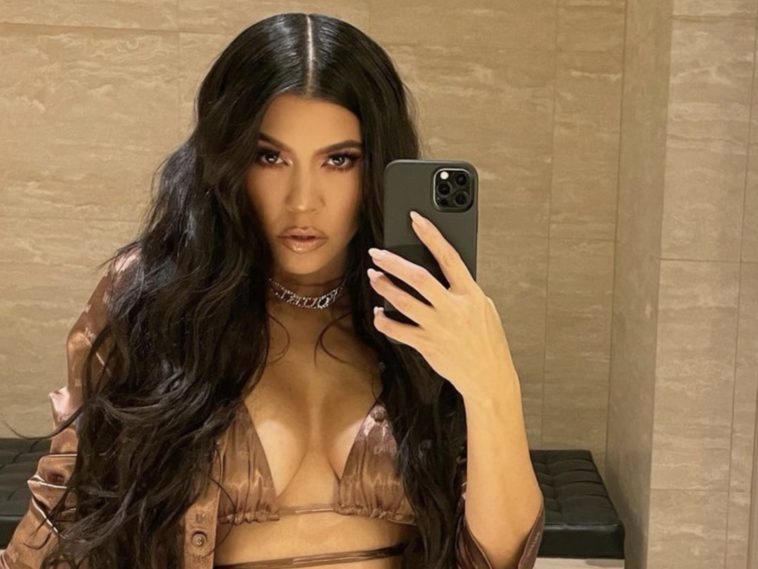 @sohh @sohhdotcom

119 Views
Comments Off on Kanye West's Sister-In-Law Kourtney Gets Kinky W/ Travis
Kanye West's Sister-In-Law Kourtney Gets Kinky
KK went to her Instagram page to share a sneak peek of her laying down with Barker snapping a pic of her back. Kourtney also references doing things in bed not related to their planned movie night.
"watchin' movies, but we ain't seen a thing tonight"
Things took a wild turn when social media realized Kourtney was actually referring to pop star Ariana Grande's sex-driven "34+35" lyrics in her post.
The caption heated things up a little though, with Kourtney using some Ariana Grande poetry — "Watchin' movies, but we ain't seen a thing tonight" — to highlight exactly what was going on. Those lyrics are, of course, from "34+35" which…well, it's not exactly subtle, is it! Then Travis jumped into the comments with a simple emoji. I guess he likes said movie. (BuzzFeed News)
Travis and Kourtney Make It Instagram Official
In February 2021, the rumored pair confirmed they were dating through Instagram, when Kourtney posted a sweet photo of the couple holding hands in a car. The new duo had appeared to be dating since January after they were rumored to be on a trip together in Palm Springs.
Flash forward to Valentine's Day, they also appeared to be together, judging from their social media activity. After a few days of speculation, Kourtney finally sealed the deal with the car photo.
Kanye West's Sister-In-Law Might Be Dating Travis Barker
According to reports, KK and Barker were in the early days of a promising relationship. While details were scarce at best, reports claimed they had spent some time together for the past few months.
Over the weekend, Kardashian, 41, and Barker, 45, enjoyed a trip to Palm Springs, California, where her mother Kris Jenner has a home. On Saturday, the Keeping Up with the Kardashians reality star and the Blink-182 drummer both shared poolside views of the residence's backyard on their Instagram Story. "They're in Palm Springs together. They've been dating for about a month or two," a source tells PEOPLE. "They've been friends for a long time but it's turned romantic." (PEOPLE)
Blac Chyna Granted Jury Trial
Rob Kardashian's ex-fiancée Blac Chyna has scored a huge legal win. She's been granted a trial against the popular family, which stems from the cancellation of her former E! show, "Rob & Chyna." Chyna previously accused the Kardashians of plotting to get Season 2 of the show canceled.
"Chyna also proved that, although Kris Jenner was the ringleader for the plot to get Season 2 of 'Rob & Chyna' canceled, Kim Kardashian West, Khloé Kardashian, and Kylie Jenner each separately defamed and intentionally interfered with Chyna's contract for Season 2 — so all three daughters face a trial by jury for their illegal conduct against Chyna …," Ciani told us. (Page Six)