New York rapper Jim Jones sees much more in Juelz Santana than just a collaborator. The hip-hop veteran went to his social media pages to dish out on just how much his longtime friend and fellow Dipset member has meant to him.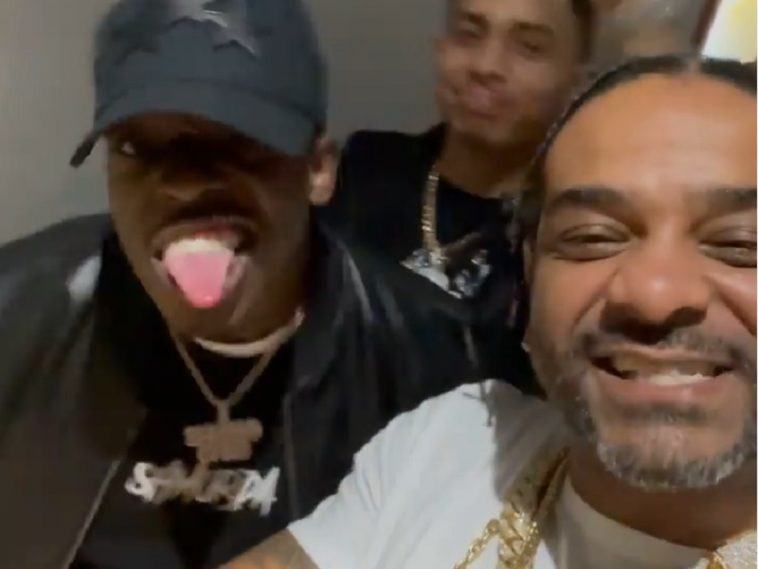 149 Views
Comments Off on Jim Jones Declares Loyalty To Juelz Santana Forever
Jim Jones Declares Loyalty To Juelz
Jimmy went to his Instagram page with a snapshot of both himself and Santana hanging out together. They're both twinning dripped out in some flashy New York Knicks attire.
"Am I my brother keeper yes I am Wit out him there no me each one teach one u fall I hold u up I fall u do th same We go in together we come out together Leavin each other side is not a option in th face of adversity They can take all these trophies and th money from me I'm still gone b there for my brother because he's my brother They tried eveyrhing to take th birds 🦅 out th sky Not on my watch though Ps heavy on th water @mazzanewyorkofficial"
The salute even sparked a mighty Juelz Instagram co-sign in the comments section.
"My Brother 4LIFE…. Always Us… 🦅💪🏾🙌🏾💯✔️"
Dipset Shows Up To Support The NY Knicks
A few days ago, Jim Jones posted an Instagram video moments before the Knicks tipped off against the Atlanta Hawks in Game 5 of their first-round playoff series. Jones, Cam'ron and Juelz Santana pulled up at Madison Square Garden to support their squad. Santana's wife, "Love & Hip-Hop" reality TV star Kimbella, was also there. As charged up as Cam was pre-game, the Knicks ended up losing the game and the series.
"That n*gga Killa too hyped for me. I like basketball, but not that much." (Jim Jones)
Cam'ron + Amber Rose Flex Dipset Goals
Harlem's own Cam'ron was having some fun under the sun recently with one of the rap game's most famous models. The hip-hop heavyweight linked up with popular blonde bombshell Amber Rose.
"It's a lot going on in this pic so I'll explain 1. Me (flee) in that @flee.farms pink camo (available soon) 2. Amber Rose in that Dipset X poster boys clothing collab (coming soon) 3. Amber Rose getting that PinkhorsePower for @ae4president (let me know how is goes y'all, I'm sure it'll be a rodeo lol) 🐎🐎"
Dipset + Posta Boys
This week, Alexander Edwards teased the world about having a huge Dipset collaboration on deck with his Posta Boys clothing brand.
"The Diplomats Empire 🦅 launch event on Friday, April 16th at 2PM at @domtheland (700 N Fairfax Ave, Los Angeles, CA 90046) Diplomats 🦅 & Postaboy$ 💎members will be there for the brand new @diplomatsempire x @postaboys collaboration release. The collection will be available in store at @domtheland & online @NTWRK (dropping at 4PM PST – same day). Whole diplomats family will be on NTWRK online live interview at DOMTHELAND, don't miss it. DIPSET! 🦅@mr_camron @thejuelzsantana @jimjonescapo @freekey730 POSTABOY$ 💎 @ae4president @tyga @amberrose @teegrizzley @kreamcash @dok2gonzo"