Atlanta rapper Jeezy is doing his part to keep himself safe. The hip-hop superstar has shared footage of himself receiving a COVID-19 vaccination shot.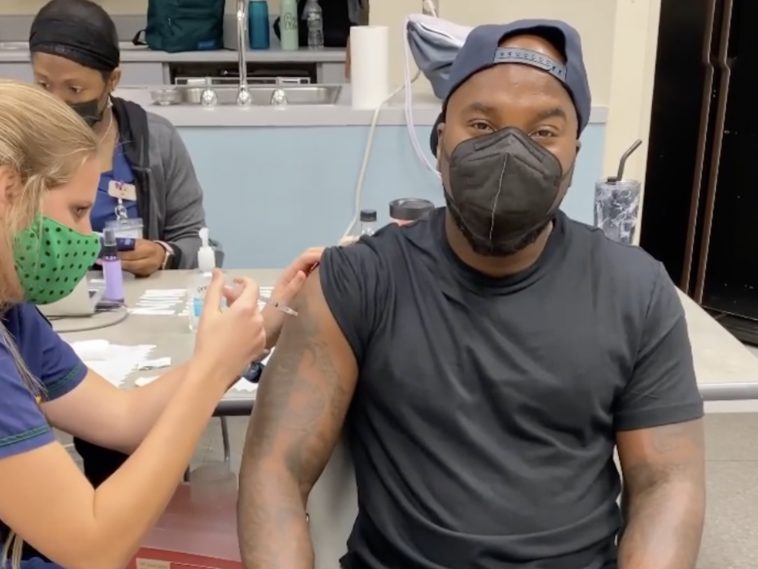 @sohh @sohhdotcom

159 Views
Comments Off on Jeezy Gets COVID-19 Vaccination Shot In New Video
Jeezy Gets COVID-19 Vaccination
The Snowman went to his Instagram page to share the clip. The Georgia native also acknowledges he is now fully vaccinated.
"Second dose! Fully vaccinated. It not about you it's about your love ones and the ones closest to you. It's to protect them. Shout out to Navicent Wellness Center Macon Ga. Was so accommodating and professional 💯"
50 Cent's Freaking Out
Recently, rap star 50 Cent shared a headline about possible additional shots being required for Pfizer vaccinations. 50 acknowledged he might just stay indoors and avoid human contact at all costs.
"👀🤔so the baby powder joint giving women blood clots, and this one ain't working 🤯wtf i'm going back in the house. 🤷🏽‍♂️"
The same week, reports surfaced about a likely third vaccination being required for people who took the Pfizer shot.
Pfizer CEO Albert Bourla said people will "likely" need a booster dose of a Covid-19 vaccine within 12 months of getting fully vaccinated. His comments were made public Thursday but were taped April 1. Bourla said it's possible people will need to get vaccinated against the coronavirus annually. "A likely scenario is that there will be likely a need for a third dose, somewhere between six and 12 months and then from there, there will be an annual revaccination, but all of that needs to be confirmed. And again, the variants will play a key role," he told CNBC's Bertha Coombs during an event with CVS Health. (CNBC)
Trey Songz Had COVID-19 Recently
Back in October 2020, R&B superstar Trey Songz revealed he'd contracted COVID-19. Songz even bashed former president Donald Trump for not taking the virus seriously.
"I've always taken it serious. If you come in contact with COVID, please do the same. Please do the same. Don't be like the president. Much love and peace, y'all. I thank you in advance for your support, your love." -Trey Songz's Instagram
Jeremih Checks Out Of Hospital After COVID-19 Battle
Last year, R&B singer Jeremih came home after a scary hospital stay with COVID-19. The Chi-Town native was reportedly in the intensive care unit.
Jeremih tells TMZ, "First and foremost, I would like to thank God and the incredible team of doctors and nurses at Northwestern Memorial Hospital for saving my life. I will be forever grateful." The R&B singer goes on … "I would also like to thank my family and friends for all their prayers and well wishes. I'm overwhelmed with gratitude. A special thanks to Chance The Rapper, 50 Cent and Diddy for their love and support." (TMZ)