Atlanta rapper Gucci Mane is covering all his bases with the upcoming Ice Daddy album gearing to drop in just under 48 hours. The hip-hop heavyweight has shared the stacked LP's tracklisting which covers all generations of the rap game.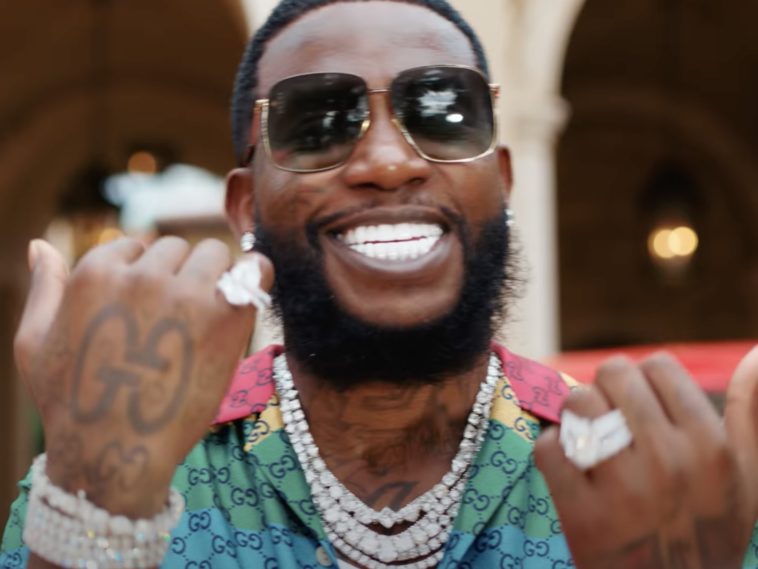 99 Views
Comments Off on Gucci Mane's 'Ice Daddy' Loaded W/ Huge Guest Features
Gucci Mane's 'Ice Daddy' Loaded W/ Stars
Guwop went to his Instagram page to reveal his decked-out tracklisting. In addition to showing love to his current roster of 1017 Records talent like Pooh Shiesty, Mane made sure to lock-in guest features with rap veterans like Sir Mix-A-Lot and E-40 plus modern day rap acts like Lil Baby and Lil Uzi Vert.
"Big GuWop Dropping new album Tomorrow night #IceDaddy pre save link in bio 🥶"
Gucci + Keyshia Celebrate 4 Years Together
Outside of the new album, the platinum-selling star recently recognized a major milestone in his marriage. Gucci celebrated four years with wife Keyshia Ka'oir recently, posting a batch of photos of himself and his wife wearing matching pink formal attire at an unnamed social function.
In the comments section of the post, their son Ice Davis – who is also on the cover of Gucci's new album – made a surprise appearance and left a comment through his own Instagram account.
"Happy 4th Anniversary to my beautiful wife MrsDavis I love you. I really got the best wife in the world and even though our wedding was 10/17/17 we really got married 4 years ago today and that was the best decision I ever made. Thank you for staying by my side when I was in prison, thanks for being someone I can trust and thank you for my son Ice 🧊. I adore you and I'll never take you for granted. Love always Gucci."
"My mom & dad ❤️🤗" -Ice Davis
Gucci Mane Glows Marriage Goals
In April 2021, Guwop went to Instagram with a slideshow of more lovey-dovey pics hanging out alongside KK. In the pics, they're both showing off major love for one another, however, it's Ka'oir's beauty and noticeably green hair which steals the marriage goals moment. The pic is a must-see and just way too jaw-dropping to miss.
"I got the finest wife @keyshiakaoir ❤️🥶"
Gucci Mane's Fit Goals Outshined
Recently, Guwop's ride or die went to her Instagram page with a batch of her very own flashy pics of the couple. The shots showed Gucci draped in luxury gear but Ka'oir's iced and fit completely outshined Mane.
"Guwop's b*tch she's a masterpiece✨#1017"
Gucci even went to his Instagram page to acknowledge KK's flexing is on his level.
"When it comes to Stuntin I met my match @keyshiakaoir 💎🧊 #IceParents"