OVO Sound boss Drake's mom and dad made sure to pull through in the best way. The hip-hop star's day ones – Sandra and Dennis Graham – shared a special televised moment on-stage with him last night during his Billboard Music Awards Artist of the Decade honor.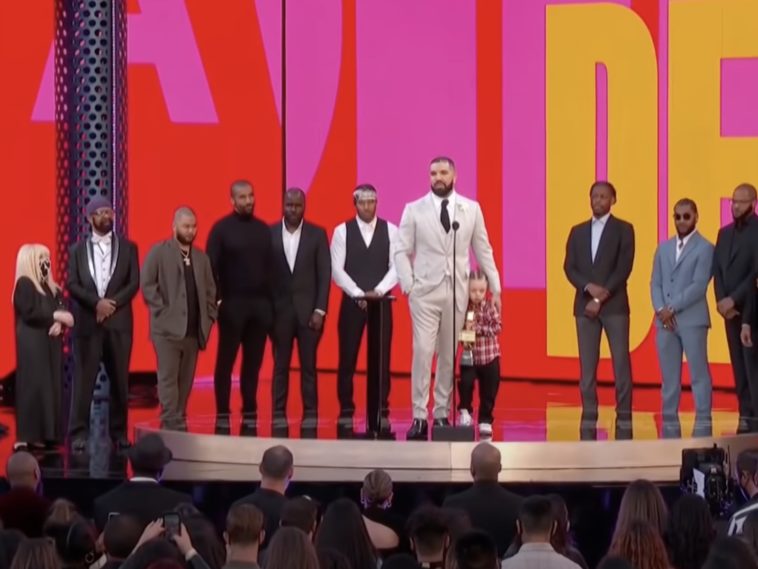 189 Views
Comments Off on Drake's Parents Join Him On-Stage For Artist of the Decade
Drake's Parents Join Him On-Stage
Clocking in at nearly three minutes in length, Drake graced the stage with some longtime friends and – most noticeably – his parents. Both of them stood toward the end of a line of folks and Sandra wore a face mask.
Drake + Adonis Make First TV Appearance Together
Footage also made the rounds online showing both Drake walking out with his baby boy Adonis. The footage is way too adorable to ignore and marks one of their first public televised outings together.
"Drake with Adonis walking out to accept his ARTIST OF THE DECADE award."
Drake also went to his Instagram page with a super powerful speech courtesy of his longtime friend LeBron James recognizing his Artist of the Decade award.
"CERTAIN DESTINY @[email protected]"
Drizzy Shares Son's Epic Reaction
In early May, Aubrey hit up Instagram with some must-see footage. In the video, Drizzy Jr. is shown watching highlights of LeBron James from his Miami Heat days and one move made Adonis lose it in awe.
"OMG 😱"
Drizzy Jr. Pays Respect
Recently, Drizzy shared a must-see pic of his mini-me. The 6 God's post also featured the late Kobe Bryant's retired Los Angeles Lakers numbers hanging up while Adonis pointed upward at them.
"😇"