Drake is the first artist to surpass 75 billion streams on Spotify. Drizzy responded to the news by asking for a Lebron sized-check for himself and bonuses for artists to motivate consistency and competition.

179 Views
Comments Off on Drake Becomes The First Artist To Surpass 75B Streams On Spotify; Says He Wants A Lebron Sized-Check
Rap superstar Drake reached another milestone in his career by becoming the first artist in Spotify history to surpass 75 billion streams. Aside from asking for a Lebron sized-check, he also advocated for artists to receive bonuses for streaming on his Instagram story.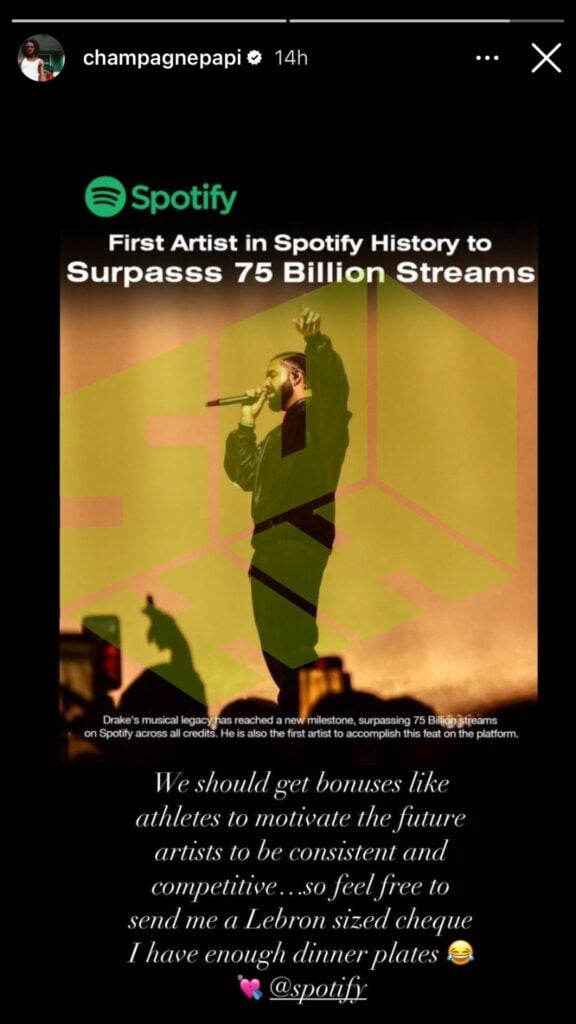 The record-breaking rapper acknowledged his accomplishment on his Instagram story, with a message.
"We (artists) should get bonuses like athletes to motivate the future artists to be consistent and competitive…so feel free to send me a LeBron(James) sized cheque. I have enough dinner plates," Drake wrote.
Shortly before announcing his accomplishment, he partnered with the NFL for his new OVO merchandise line.
Streams = Pocket Change?
Artists in the past have complained about not getting paid enough for streams. The late rapper Nipsey Hussle called out Spotify before his passing in 2019. 
In 2020, less than 1,000 of the 7M active musicians received $1M or more from Spotify.
Drake Ties Jay-Z For Most No.1 Albums On Billboard's Hip-Hop/ R&B Charts
Drake has also tied with rap icon Jay-Z for the most No.1 albums on the Billboard Hip-Hop/R&B charts. Drizzy reached the milestone after dropping his collaboration album Her Loss with Atlanta rapper 21 Savage in November.