Late New York rapper DMX's closest friends and family pulled through to celebrate his life at the Barclays Center. The livestream emotional event featured appearances by some of the biggest names in rap including Nas, Eve, Swizz Beatz and the Ruff Ryders.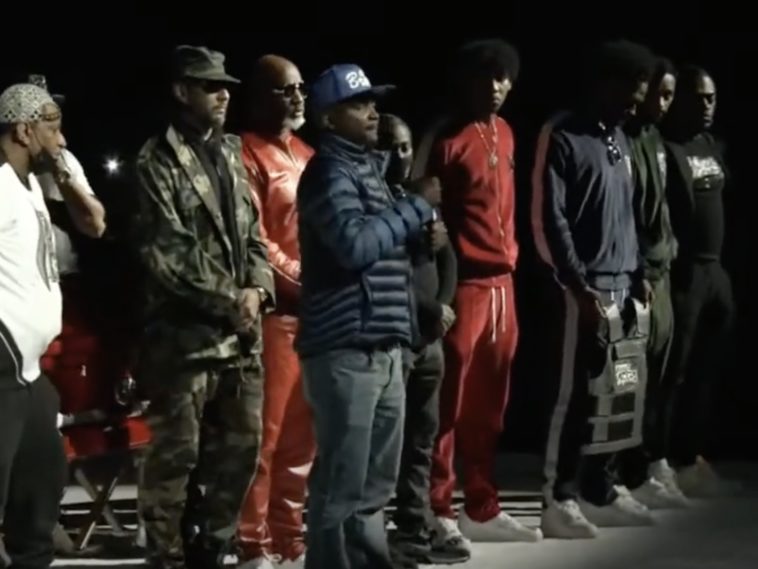 99 Views
Comments Off on DMX's Funeral Event Includes Nas, Eve, Ruff Ryders + More
DMX's Funeral Event Includes Nas + Eve
A livestream of the event clocks in at well over an hour. Along with Nas and Eve speaking on the late X, producer Swizz Beatz made his presence felt alongside Ruff Ryders members.
The 90-minute ceremony, which streamed live on YouTube, opened with a viral video of DMX and one of his daughters riding the Slingshot roller coaster as he eased her fears. "Daddy's here," he said. In an emotional moment, his 15 children came together to remember their father including Xavier Simmons, DMX's eldest child, and another one of his daughters, who paid tribute to her dad with a rap in the cadence of X's 1998 hit "Slippin'." (Rap-Up)
Fabolous Shows Priceless Moments
This weekend, New York rapper Fabolous hit up Instagram with a slideshow of emotional moments. Along with sharing shots from outside the Barclays Center, Loso also revealed footage from the actual memorial service.
"Celebration of Life for DMX the Great 🙏🏾🖤🤞🏾 Was a honor to be there to pay respect to the Legend.. the Icon.. the man Earl Simmons. 🙅🏾‍♂️"
Ruff Ryders Get Deep At DMX's Service
Additional footage has started to circulate online showing rap crew Ruff Ryders on-stage at the emotional event. More specifically, Swizz Beatz used the livestream event to single out people for not doing enough for X during his time on Earth.
"I just wish all these people showed up for him when he was here. You got thousands of people claiming who they are and tickets and things like that. This man needed everybody. He didn't need everybody when he's not here, he needed everybody when he was here. We have to learn to celebrate each other while we're here."
Beatz took things even further by warning people 'not' to show up to his own memorial service if they didn't hold him down while alive.
"I don't want y'all to show up to my sh*t when I'm gone, unless you was showing up while I was here. I want to be sent off with the same love that I had when you were standing next to me. The things that I'm witnessing from my brother's passing was a big educational thing for me to learn. I'm glad I got to see it at this age. A lot of people aren't your friends, a lot of people aren't your family."
Kanye West Teams W/ Balenciaga For Tribute
This weekend, X's official Instagram page shared huge news to fans. Details were revealed of rap star Kanye West's Yeezy brand teaming up with luxury line Balenciaga for tribute attire.
"DMX A TRIBUTE BALENCIAGA YEEZY dmx-tribute.com"
The post also detailed the exact partnership between Yeezy and Balenciaga.
"BALENCIAGA HAS BEEN ASKED BY YEEZY TO DESIGN A T-SHIRT IN TRIBUTE TO THE LATE ARTIST EARL SIMMONS, AKA DMX. A TRIBUTE TO THE ARITST AND HIS FANS WITH NET PROCEEDS BENEFITING SIMMONS'S FAMILY. IN LOVING MEMORY."
Throughout the day, DMX's Instagram account had kept fans updated on his memorial service and arrangements.
"*** 𝐒𝐀𝐓𝐔𝐑𝐃𝐀𝐘 𝟒/𝟐𝟒 *** Celebration of Life Memorial LIVE on @YouTube at 4:00 PM EST (Link in bio.) *** 𝐒𝐔𝐍𝐃𝐀𝐘 𝟒/𝟐𝟓 *** Homegoing Celebration LIVE on @bet at 2:30 PM EST. 🚨🚨🚨Attendance restricted to family & close friends. 🚨🚨🚨 #longlivedmx"