The New York Knicks' only competition for having the NBA's most star-studded crowd is the Los Angeles Lakers. In what turned out to be the Knicks' final game of this season on Wednesday, the celebrity roll call included a whole Dipset rap family get-together.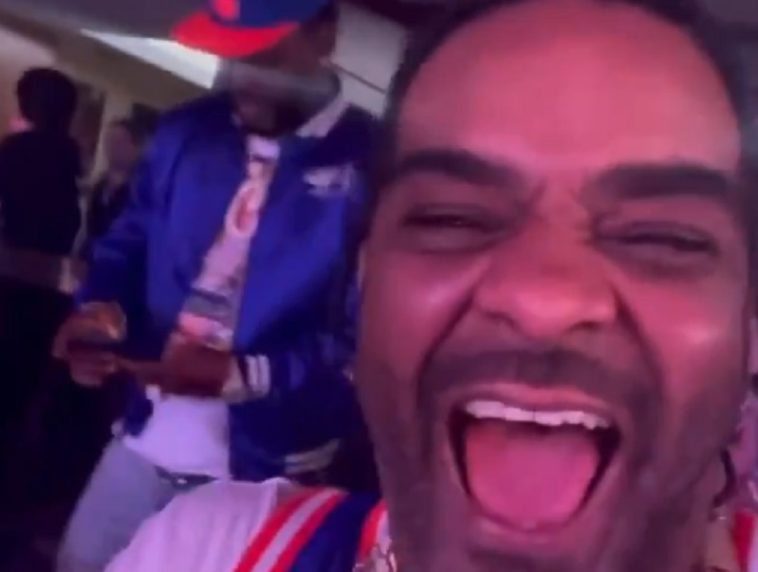 129 Views
Comments Off on Dipset Had A Gang-Gang Reunion At The NY Knicks Game
Dipset Shows Up To Support The NY Knicks
Jim Jones posted the video on his Instagram moments before the Knicks tipped off against the Atlanta Hawks in Game 5 of their first-round playoff series. Jones, Cam'ron and Juelz Santana pulled up at Madison Square Garden to support their squad. Santana's wife, "Love & Hip-Hop" reality TV star Kimbella, was also there. As charged up as Cam was pre-game, the Knicks ended up losing the game and the series.
"That n*gga Killa too hyped for me. I like basketball, but not that much." (Jim Jones)
Cam'ron + Amber Rose Flex Dipset Goals
Harlem's own Cam'ron was having some fun under the sun recently with one of the rap game's most famous models. The hip-hop heavyweight linked up with popular blonde bombshell Amber Rose.
"It's a lot going on in this pic so I'll explain 1. Me (flee) in that @flee.farms pink camo (available soon) 2. Amber Rose in that Dipset X poster boys clothing collab (coming soon) 3. Amber Rose getting that PinkhorsePower for @ae4president (let me know how is goes y'all, I'm sure it'll be a rodeo lol) 🐎🐎"
Dipset + Posta Boys
This week, Alexander Edwards teased the world about having a huge Dipset collaboration on deck with his Posta Boys clothing brand.
"The Diplomats Empire 🦅 launch event on Friday, April 16th at 2PM at @domtheland (700 N Fairfax Ave, Los Angeles, CA 90046) Diplomats 🦅 & Postaboy$ 💎members will be there for the brand new @diplomatsempire x @postaboys collaboration release. The collection will be available in store at @domtheland & online @NTWRK (dropping at 4PM PST – same day). Whole diplomats family will be on NTWRK online live interview at DOMTHELAND, don't miss it. DIPSET! 🦅@mr_camron @thejuelzsantana @jimjonescapo @freekey730 POSTABOY$ 💎 @ae4president @tyga @amberrose @teegrizzley @kreamcash @dok2gonzo"
Cam'ron Previews New Fire
Earlier this month, Killa shared a super intense sneak preview of new music he has on deck. Cam took things a step further by announcing it's officially a 'Camdemic' and hinted at an Independence Day pack coming.
"…."Me and @sugadugga1988 making that before the month is up, another 50k nigga before the sun come up, a spare $8500 to fix ya mother butt" 🤷🏽‍♂️ @officialheatmakerz #Camdemic July 4"
The epic post sparked a flurry of co-signs and reactions from Dipset's Jim Jones and Brooklyn Nets superstar Kevin Durant.
"🔥🔥🔥" -Kevin Durant
"Work" -Jim Jones
"Ok Killa!!" -Official Heatmakerz