Trugoy, one of the founding members of the hip-hop trio De La Soul died at 54 on Feb. 12 after a five-year bout with congestive heart failure. Tributes from Pharrell, Chuck D, and more have poured in.

234 Views
Comments Off on De La Soul Member Trugoy Passes Away At 54
RIP To The Dove
David Jude Jolicoeur, known to the hip-hop world as Trugoy the Dove of the trio De La Soul, died on Feb. 12 at 54. The official cause of his death has not been determined at this time. The late hip-hop legend was noticeably absent during the trio's 2023 Grammys performance of "Buddy." The Dove was battling heart failure for five years before he passed.
De La Soul was formed by members Vincent "Pacemaster Mase" Mason, Kelvin "Posdnuos" Mercer, and Plug Two in 1988 while the three attended Amityville Memorial High School. Their debut album, 3 Feet High and Rising, is regarded as one of the most influential hip-hop albums of all time.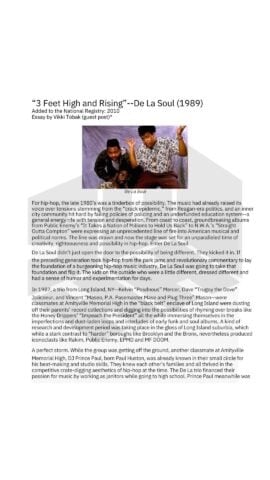 This is due in part to the positive vibe they oozed, innovative use of interludes between tracks, and their unique sampling ranging from Johnny Cash, and James Brown to Hall & Oates.
Celebs Tribute To Trugoy + De La Soul's Impact On Hip-Hop
Celebrities began to pay tribute to the late New York rapper as news broke of his passing. On Twitter, Pharrell Williams wrote, "Trugoy Dave from De La Soul has gone up to be with the day of the stars with the Master."
Public Enemy member Chuck D said "Rest In Beats my bro Dave" in the caption of a video he posted on twitter with the late legend and Wu-Tang member RZA.
Grammy Award-winning record producer and DJ 9th Wonder stated, " My God. Rest in Peace and POWER, David Jude Jolicoeur, also known as Trugoy….PLUG 2….. of @wearedelasoul …"
Over the three and a half decades since De La Soul formed the group, they have been consistently praised for their indelible mark on the hip-hop genre. The Long Island trio have sold over a million copies of their work nationally, with De La Soul Is Dead and 3 Feet High certifying gold and platinum by the RIAA, respectively. 
They've received six Grammy nominations so far and, at this time, have garnered one. In 2005, "Feel Good Inc."- a rap/rock track featuring the British animated band Gorillaz– won for "Best Pop Collaboration with Vocals." 
On April 6, 2011, the trio's freshman album was selected to be placed in the Library of Congress.
EXCLUSIVE: Scotty ATL + Drumma Boy Share Gangsta Boo's Last Moments
Lola "Gangsta Boo" Mitchell was touring with Atlanta rapper, Scotty ATL for the #ShowYaGrillTour which stopped in Los Angeles and Memphis two weeks before her death on Jan. 1. Funeral services were held on Jan. 14 in her beloved hometown, Memphis, Tenn. SOHH was able to talk with both Scotty and his tour manager, Erricka Mystorie.