New York rapper Cardi B is demanding all the attention. The hip-hop superstar has lit up social media with a stash of new pics from an upcoming XXL magazine photo shoot.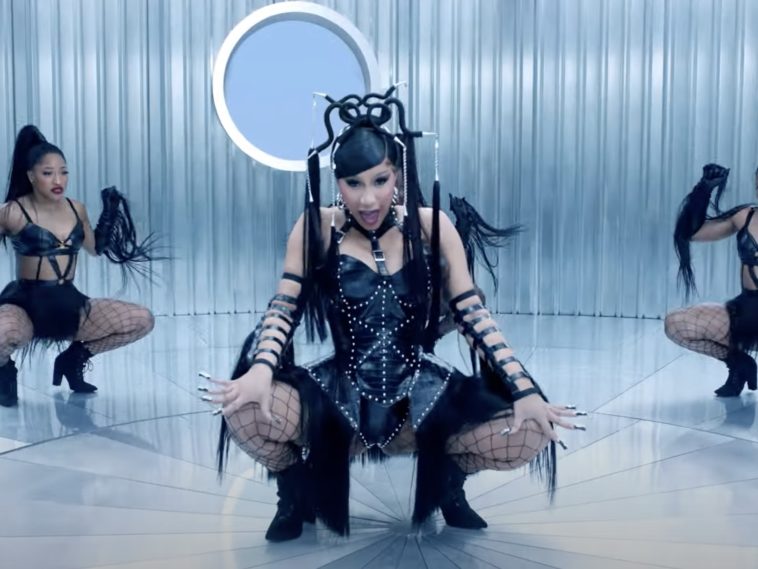 @sohh @sohhdotcom

149 Views
Comments Off on Cardi B's New Photo Shoot Pics Are Mind-Blowing
Cardi B's New Photo Shoot Pics
The Bronx native went to her Instagram page to share both her cover feature and a handful of mind-blowing pics. The shots are a perfect mixture of jaw-dropping with Cardi donning a short hairstyle and eye-opening fashion fits.
The pics come just days after Cardi blew people away with a wild outfit in California. Paparazzi spotted her donning an epic-looking and very steamy piece with her husband Offset nearby.
Wearing a skintight, transparent dress by the designer Pierre-Louis Auvray, Cardi B was photographed in Beverly Hills on Friday. The eye-catching look featured a galactic-print over a female silhouette on sheer fabric, with a sweater shrug and full-body border helping to create an optical illusion on the rapper. Unsurprisingly, onlookers stopped to take photos of the Hustlers star's look. (Yahoo! Life)
Cardi B's Coming Out With Her Hair Care Line
A few days ago, Cardi B announced she'll be launching a hair care product line later on in the year. B didn't go into specifics about what products she will have, but she's gone online with her hair routine before so the music star knows what she's doing.
"This year I will be coming out with a hairline that I been working on at home for my hair and my daughters however,I think is time for people to educate themselves on nationality,race and ethnicity.Being Hispanic/Latina don't make your hair long , don't make your skin light or don't make your face features slim specially Latin countries from the Caribbean islands. Dna have something to do with your hair not your nationality but guess what you can always maintain your hair …..and one more things not everyone that speaks Spanish is Mexican 😉"
The buzz about Cardi's hair stems from her going online and showing off her natural look.
Cardi B Calls Out Eminem Rumor
Cardi isn't here for the tweet capping. The hip-hop star has come forward to address a wild rumor suggesting self-proclaimed rap god Eminem turned down a collaboration opportunity. The "WAP" and "Up" hitmaker lit up her Twitter page to shut down the extreme gossip. Cardi cited "big lies" over a tweet suggesting Em looked the other way when pressed for a B duet.
"BIG LIES….I get off the internet and ya makin shit up 😂😂 I haven't sent no songs to no artist yet. Love his work and much respect.This don't even make sense ."
Cardi took things a step further by teasing some insane collaborations gearing up to shock the world.
"Since they like to make up LIES about me cause their so obsessed just know this .. y'all laughing about this fake rumor but wait until y'all see these next collabs 😉""
In March 2021, Cardi hit up Instagram with a sneak peek at herself in music-making mode with a studio pic.
The Eminem Rumor's Origin
Coincidentally, it didn't appear to be a high-profile publication or verified account which caught Cardi's attention. Instead, B quoted and responded to a Twitter user with just over 2,200 followers.
"Insiders Report: that Eminem has now declined a ft request for Cardi B's upcoming project: says "she doesn't care about the culture or her craft""