Up and coming female rapper BIA is seeing major success as a result of her summer hit "Whole Lotta Money." That success then doubled once rap queen Nicki Minaj put her own spin on the record in the remix. Now, that success has trippled.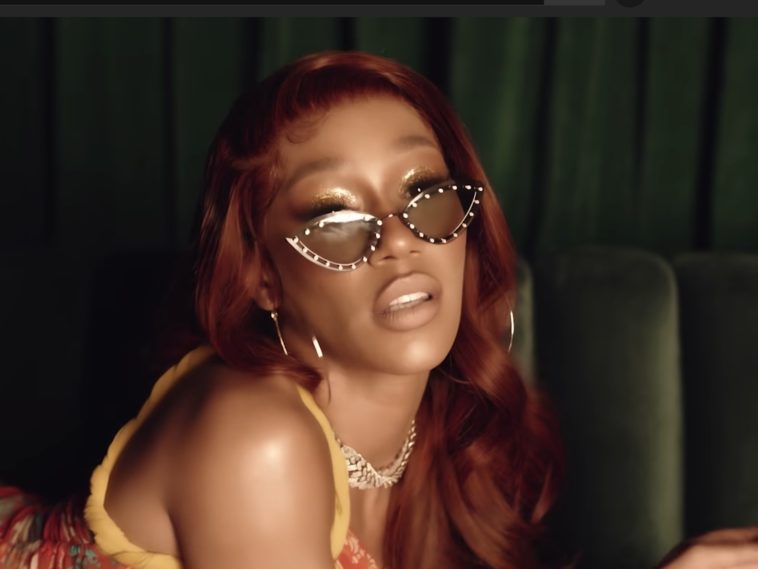 146 Views
Comments Off on BIA Has People Spending A 'Whole Lotta Money' On Heels
BIA's Fans Are Selling Out Bottega
Bia has never been shy about letting everyone know the designer brands she loves to strut into the bodega with and one of those brands just so happens to rhyme perfectly. In the song the song she gives a shout out to luxury brand Bottega stating that while she's rocking Fendi on her body, her feet are stepping in Bottega.
In the music video for "Whole Lotta Money", Bia also wears the Bottega heels she mentions in the song causing fans to flock to the stores to buy the exact heels, hoping to have the same drip. Bia found out this while doing some shopping of her own. Hitting up Twitter to let followers know that as she was shopping the clerk at Bottega informed her that they had sold out of the signature shoe because of her shout out in the song. Bia seems to be delighted my the information, ending her tweet with a laughing emoji and an orange heart to represent her love for her fans.
"Fendi on my body, but my feet is in Bottega / B*tch, I'm getting money, give a f*ck about a hater."

"Not the store clerk at Bottega saying the heels are sold out because of the song 😂 🧡" (@BIABIA)
"Whole Lotta Money" Enters Top 10
The folks at Bottega aren't the only people seeing numbers, BIA is still doing big numbers with her guest feature. Her recent "Whole Lotta Money" track has just entered a top 10 chart with the help of none other than Nicki Minaj.
Their remix has entered the top 10 on Billboard's Hot R&B/Hip-Hop Songs chart. This definitely has something to do with the Nicki Minaj effect – helping rising artists chart. Drake does this too, perhaps better than everybody.
Thanks to an assist from Nicki Minaj, BIA rallies to her first top 10 on Billboard's Hot R&B/Hip-Hop Songs chart as "Whole Lotta Money" zooms 40-6 on the list dated July 24 after its Minaj remix arrived on July 9. (Billboard)
This is BIA's first time getting a track in the top 10, and it surely won't be the last. She's debuted one other song on the chart previously.
"Money" marks BIA's second appearance on Hot R&B/Hip-Hop Songs in her career. The rapper's other entry, her collaboration with Russ, "Best on Earth," reached No. 20 in April 2020.
Nicki Minaj Can't Stop Hyping Up
The New York rapper is loving what she brewed with BIA. The hip-hop star has stepped up to get fans even more hyped about their new "Whole Lotta Money" remix.
Onika recently went to her Instagram page with some snapshots of herself alongside the rap entertainer. Nicki encouraged followers to keep supporting the new tune.
"I ain't talkin cars, long hair don't KIA 🚘 in a twin seater, 🗣 you tamera??? #WhatsTIA 💕🧡 #BarBIA 💰💰💰#WholeLottaMoneyREMIX OUT NOW‼️‼️‼️🔥🔥🔥❤️‍🔥🔥❤️‍🔥🔥🚀🚀🚀🚀🚀 🚨🚨🚨🚨🚨🚨"
Nicki is also making headlines courtesy of a statement she put out into the universe and its reference to an album slowly coming together.
"listen what you guys r seeing when I do this, is me catching myself, then quickly checking myself. As you learn life & learn YOURSELF you must have that moment. When everything you say becomes ten times bigger simply b/c it's YOU, you learn to use that power purposefully as opposed to always allowing it to get the best of YOU. once it's said it can't be taken back. This is for ALL POWERFUL WOMEN. PLZ CATCH THIS GEM So there r a few things I needed to say but I checked myself & said 'this is Bia's moment btch, it ain't about you right now. NOW HOLD AWWWNNNN. LISTEN. it looks like there maybe a new home for #QueenRadio & man oh man. Can't wait to have fun wit you guys again. this sht gon b so epic. But the things I have to say will be said in the right environment @ the right time. Plus if you know me, I have to write about it first. Album tingz."
BIA Still Can't Believe The Collabo Happened
BIA recently went to her Twitter page to geek out over the bucket list-type collaboration happening. She even acknowledged clocking in studio time with the self-proclaimed Queen of Rap.
"I really got the opportunity to bond and write with Nicki 🥺🧡 man my heart is so full right now this is a bucket list moment. so iconic. so timeless… this sh*t is crazy God is so good … THANK U everyone streaming, buying sharing #WholeLottaMoneyREMIX 💰 BIGGEST thank you to @NICKIMINAJ & the #BARBZ 🥺🙏🏾 🦄🧡🔥💰💞 … Wish that I could have this Moment for life 💞🧡"