West Coast singer DaniLeigh is needing l-o-v-e. The former girlfriend to rap star DaBaby has hit up her social media pages to admit she's feeling crushed these days without a real one being in her life.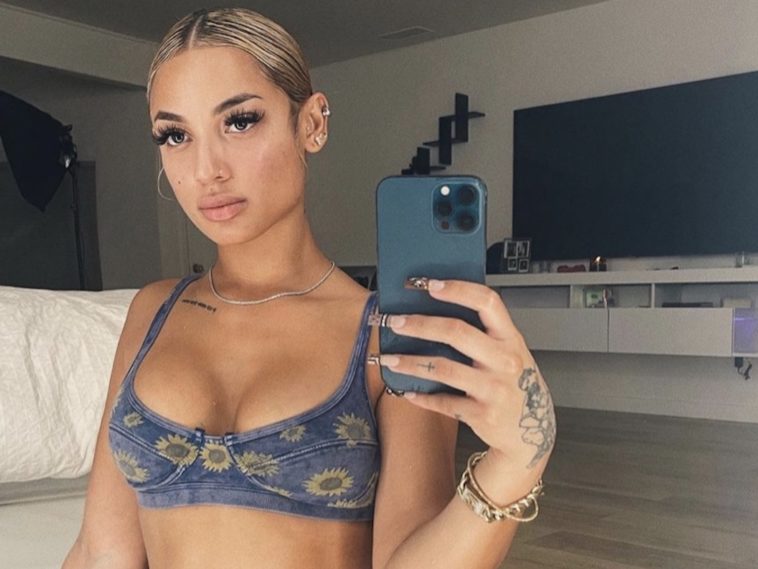 @sohh @sohhdotcom

129 Views
Comments Off on DaniLeigh Cries Out For Help Over Her Broken Heart
DaniLeigh Cries Out For Help
DL went to her Instagram Story with a since-deleted post sharing her personal thoughts. While she didn't name-drop Baby, Dani acknowledged the pain of not having love.
"I feel like I cry every other day.. I jus want my life to change already…. I don't wanna be here no more.. I got no real love around me"
Aside from her emotional reveal, Dani also returned to Instagram to share footage of herself freestyling and showing off big dance moves.
"Lol idk how old this is .. but I never freestyle and it's kind of a vibe 🤍"
DaniLeigh + DaBaby Might Have A Baby On The Way
Earlier in the month, footage emerged of DaniLeigh showing off a possible baby bump. Social media jumped at the chance to spark rumors including the idea of – if she really is pregnant – ex-boyfriend DaBaby being the father.
DaniLeigh Addresses DaBaby Breakup
In February 2021, DaniLeigh took to Twitter with her thoughts following their messy breakup. DL said she couldn't wait for her name to be separated from the situation and vowed to grow from her relationship with the Southern rapper.
"Can't wait to be disconnected to that situation…. 🤍🤞🏽 in due time … 🙏🏽 we all human.. we all make mistakes when we in love and dumb.. but it's all about growing fr .. so I'll take my lessons and keep goin .. even with all the hate I receive it's fine… in due time 🙏🏽"
Post-Breakup Bedroom Pics
DaniLeigh didn't let a little heartbreak keep her head down. Instead, the curvy crooner recently came forward to bless fans with some steamy new bedroom pics of herself flexing pure beauty. DL went to her Instagram page and didn't hold back on blowing the Internet away. Leigh shared a batch of fresh shots of herself wearing pajama shorts with a tight-fitting top.
"Jus in case u need a new wallpaper 😴"