Kanye West highly anxiously awaited album "Yandhi" a possible playlist was posted by his wife Kim Kardashian on Twitter today.
For a big surprise Kim posted a photo of a notepad with "JESUS IS KING" at the top along with a list of 12 titled tracks. A photocopy of the Holy Bible and some notes are also thrown around across the table in the picture.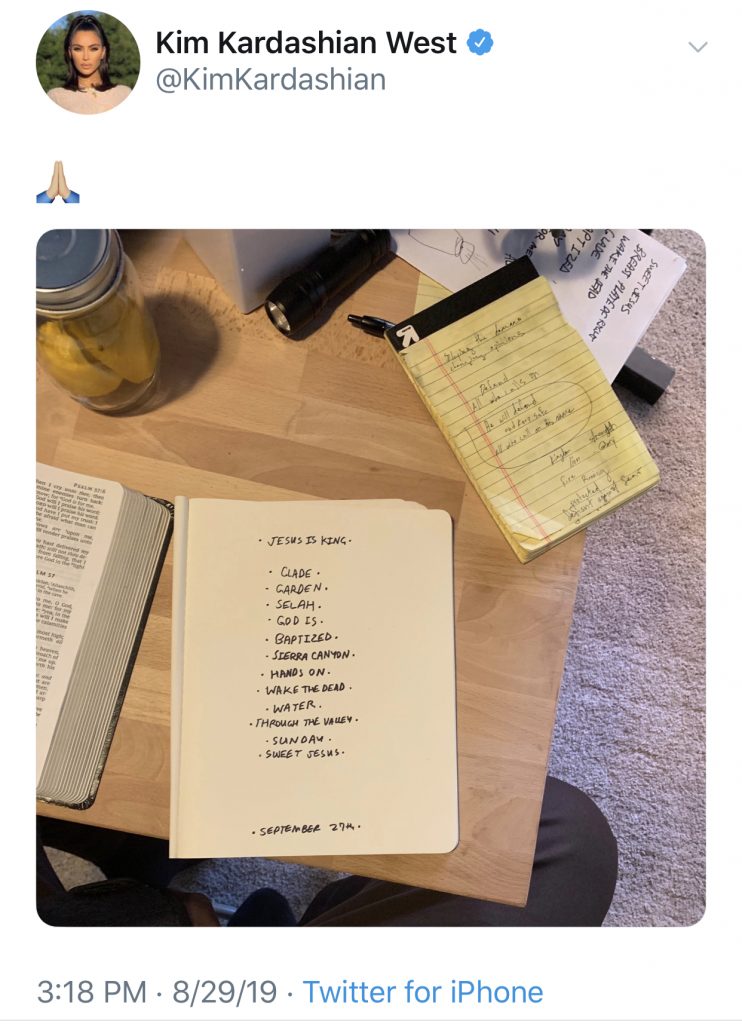 Originally the name of the album was supposed to be " Yandhi" but looks like some changes were made and could be called now "Jesus is King" It was supposed to be released on September 27, 2018 and his fans were not happy. The album was delayed twice since then. Ye blamed the record labels of holding up the release which they denied.
While his Sunday service weekly the rapper has been bringing up hints about his newest album. Mr. West has been flying from place to place recording. Trade marketing "Yandhi" still not stopping Kanye from possibly changing the name of his new album.
In Miami this year 2 Chainz, Lil Wayne, Migos and Timbaland were some of the guests invited to the studio. You never know with Yeezy's history of changing up album titles, tracks, artwork and release dates, anything can go.
Look at the expected track list below.
1. Glade
2. Garden
3. Saleh
4. God Is
5. Baptized
6. Sierra Canyon
7. Hands On
8. Wake The Dead
9. Water
10. Through The Valley
11. Sunday
12. Sweet Jesus